Yesterday, we reported that Motorola could launch the mid-range Moto X4 smartphone on June 30, based on a tip by leaker Andri Yatim. Today, the same person reveals that the budget Moto E4 and E4 Plus will be launched on June 21 in Brazil. To recall, Motorola has already sent out the media invites for an event in Brazil on June 21.
However, the tipster revealed details only about the Moto E4 Plus, and he did not even mention about its sibling Moto E4. Nevertheless, we believe that Motorola will launch both the phones at the same time. The complete specifications of both the phones have already posted online.
The Moto E4 will be the smaller phone of the two with a 5-inch HD display, powered by MediaTek MT6737M SoC, 2GB of RAM, 16MP of internal storage. The Moto E4 Plus, on the flip side, will have a 5.5-inch display with an HD resolution, MediaTek MT6737M chipset, 2GB or 3GB of RAM (depending on market), and 16GB of internal storage.
In terms of the camera as well, the E4 Plus has an upper hand among the two. The E4 Plus is speculated to feature a 13MP rear camera, while the Moto E4 will equip an 8MP sensor with support for LED flash. Both the phones will have a 5MP front-facing sensor with support for LED flash as well. The E4 Plus will also house a fingerprint scanner, whereas the Moto E4 misses out.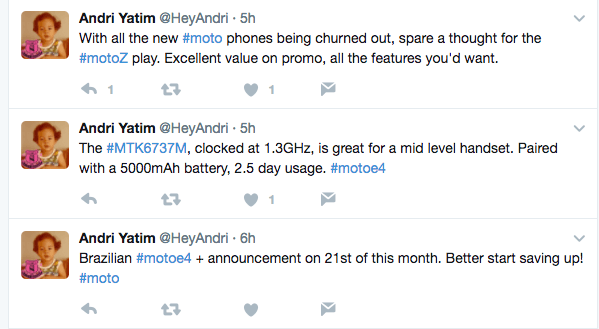 The Moto E4 is a basic phone with a 2800mAh battery, but the highlight of the E4 Plus will be its massive 5000mAh battery. With the Moto E4 Plus, the company is looking to compete with the Chinese smartphones in the battery department. As expected, the E4 & E4 Plus will come laden with Android 7.1.1 Nougat.
Lastly, the complete pricing details of the phones are leaked as well for the European market. The Moto E4 will retail for about 150 Euro (approx. Rs. 10,500), while the Moto E4 Plus (approx. Rs. 13,400). In India though, the prices will vary, and they will come with smaller price tags. With the Brazilian launch date set for June 21, both the phones may make their way to the Indian market in July 2017. However, do make a note that Motorola did not reveal what they are going to launch on June 21. So, take this news with a grain of salt.