State-run telecom operator, BSNL has announced a new plan of Rs. 666 aka BSNL Sixer for its prepaid customers across India. This new plan from BSNL offers 2GB data per day and unlimited voice calling. BSNL users have been asking for an unlimited voice calling plan since a long time, and the company finally introduced one. Recently, BSNL also said that they would unveil an unlimited voice calling plan, and this might well be that plan.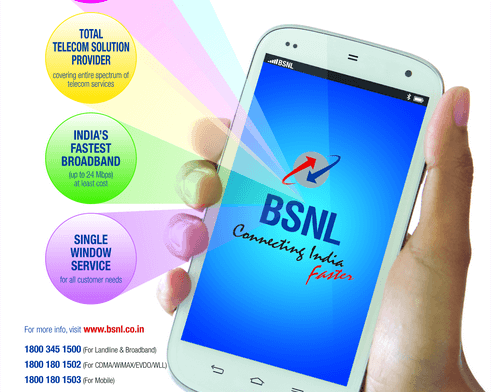 As expected, this is a promotional plan from BSNL and customers can recharge it within 90 days from the date of introduction. Post the expiry of this plan; users can choose other plans such as BSNL Chaukka 444 plan, BSNL Nehle peh Dehla 305 plan, or the BSNL Triple ACE 333 plan.
Announcing the offer, R.K Mittal, Director (CM) BSNL Board said "BSNL offer best prices & plan to our mobile customers considering the present trend of usability in the industry. We are committed to providing affordable and efficient services to all segments of our mobile customers."
Post the daily quota of 2GB; data speed will be reduced to 80 Kbps. Also, this plan doesn't offer any SMS benefits and all the incoming roaming; outgoing roaming calls are absolutely free. The Government-owned company is on a roll in recent times as they're aggressively introducing new plans.
BSNL recently launched the Chaukka 444 plan, which provides 4GB data per day for 90 days. Moreover, there are other plans such as BSNL Nehle peh Dehla 395 plan, which gives 2GB data per day, 1000 minutes of off-net calls, and 1800 minutes of on-net calls.
Then there's the BSNL 339 plan which provides 3GB data per day and unlimited on-net calls, 25 minutes of off-net calls per day for 28 days. That said, there are similar plans from other operators at cheaper rates. For example, Idea is offering 1.5GB data per day, and unlimited voice calls for ten weeks at just Rs. 497, whereas Airtel is offering similar benefits as BSNL Sixer plan at Rs. 698 (2GB data per day and Unlimited calls for 70 days).