At a time when Mukesh Ambani finally announced Jio commercial launch in front of their shareholders in its 39th AGM today, the company also revealed pricing and plans for people who want to join the all IP next gen network.
Inviting people to join the network, Mukesh Ambani announced 'Jio Welcome Offer' which will be available from 5th September, Monday from Reliance Retail stores, under which people can get a Jio SIM with unlimited access to data (4GB per day at 4G speed thereafter 128 Kbps), 100 SMS per day, unlimited HD voice and video calls as well as unrestricted access to jio digital media apps till December 31st.
Existing customers who are enjoying Jio Preview Offer will also get rewarded with unlimited access to the network till end of this year, after which Jio will start charging and people can recharge with any of the 10 Jio recharge packs which are priced from Rs 19 to Rs 4999.
Here are the details of Jio prepaid and postpaid plans: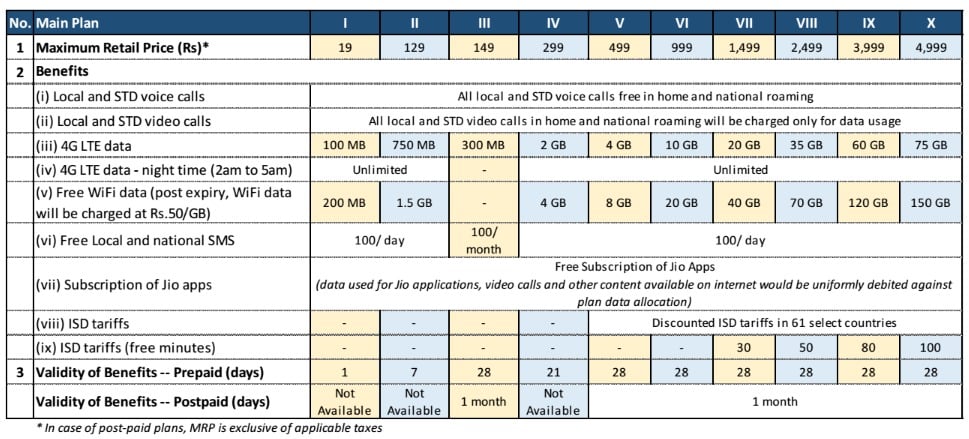 Jio small plan priced as Rs 149 is the most affordable monthly pack as it offers unlimited calling & 100 free SMS to any number in India with free roaming facility. For data needs, it also offers 300 MB of 4G data. Considering the current market, situation the pack offers more value for money for common people who don't use data services heavily. Unlike other operators who have hundreds of plans or packs in each circle, Jio has launched simplified tariff plans for its users. Seven of these primary packs come with a validity of 28 days while the remaining 3 come with 1, 7 and 21 days validity.
Jio medium pack comes at a price of Rs 499 with 4GB of 4G data perfect for youth and data hungry people who prefer to connect through social network and spend hefty amount for calling. With this pack they would also get unlimited calling, SMS and unlimited night data for a period of 28 days.
Jio Medium L pack is twice the price at Rs 999 offers 10GB of 4G data for day and unlimited night data, perfect for data hungry customers. Also with this you're getting unlimited benefits such unlimited SMS, voice and video calls to near and dear ones. The pack also comes with additional 20 GB data for access to Jio Net WiFi.
Jio Large pack which is going to be a good reason to switch from existing operators which are charging Rs 1500 - 2000 for offering unlimited calls and only 10 GB data, as it offers unlimited calling, roaming, sms, night data for absolutely free that too at Rs 1499. Once you recharge or subscribe to this plan you will get 20 GB data which is sufficient for daily needs.
Jio XL or Extra Large pack targets the people who pay premium for getting hefty amount of data with voice call needs. The pack, priced at Rs 2499 is perfect for business customers who use data in multiple devices through tethering. The pack offers 35 GB data while in WiFi hotspots, you can use 70 GB of data. It also offers unlimited night data and voice calling to any domestic number with easy roaming feature. The plan will also offer dedicated customer service representative for any help on priority.
Jio XXL priced at Rs 3999 offers 180 GB of data of which 120 GB can be consumed through thousands of Jio WiFi hotspots across everywhere. Like other plans it also has unlimited calling, sms and night data benefits.
Jio XXXL targets those audience who wants to get a perfect network to stream shows directly on high end 4G televisions. The pack comes with 225 GB data of which 75 GB is regular data, rest of the benefits can be used through connecting Jio Net WiFi hotspots. The pack comes with unlimited data at night, sms and voice call benefits inbuilt at Rs 4999.
Jio has also launched three short validity packs exclusively for prepaid which come as 1 day, 7 days and 21-day validity with benefits. These packs are targeted to those users who prefer to recharge with smaller denominations. These are not available as first recharge denomination for new prepaid users. Those who prefer to do a top up weekly, can go for Rs 199 pack which offers true unlimited voice calls, unlimited 4G data at night and SMS for a week. The pack offers 750 MB 4G data with 1.5 GB data for hotspot access. Night data refers to data consumed between 2-5 AM.
For a day 4G benefits, customers can top up with Rs 19 which will let you enjoy benefits like unlimited calling for the day, unlimited night data, 100 SMS and 100MB 4G data. If you connect your phone with JioNet WiFi hotspot, you will get additional 200 MB data. Considering the daily packs available in the market currently it is going to be the best daily pack which is easy and has all benefits. While Small Mini pack will cut the cost if you're planning for weekly data recharge as the pack offers much lower rate with longer validity (of 21 days) than other mini packs. With this pack you will get upto 6 GB of data (2GB regular) with unlimited benefits like voice calls, sms and unlimited 4G data at night during the validity period.
On the postpaid front, Jio offers 7 plans with the corresponding prepaid denominations but with one month validity instead of 28 days and with taxes applicable over and above the plan denomination. But if you choose to register for auto debit payment of bills online through debit/credit card and opt for e-bill, Jio will give an additional 15% discount on the bill value.
Important:
As many readers needed a clarification about data usage of voice and video calls as well as Jio digital media apps and whether it will be deducted from the main data balance, Jio has clarified that data used for HD voice calls will not be deducted from main balance but data used for video calls as well as for accessing digital content in its media apps will be deducted from the main data balance.