Mukesh Ambani, CMD of Reliance Industries Limited (RIL) announced the commercial launch of Jio at the company's Annual General Meeting (AGM) today. The service will begin on September 5 and will offer absolutely free Voice, Text, 4G data and Jio digital app access for all users till December 2016 under the Jio welcome offer. Also existing users will continue to enjoy free access to Jio digital apps all the way till December 2017.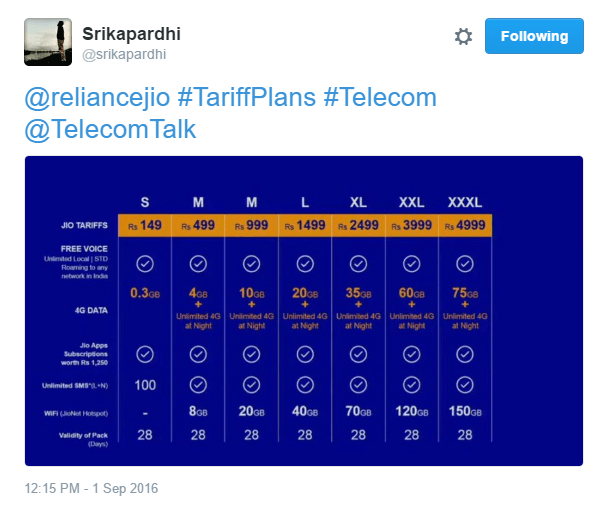 The announcement, which is live at the moment, already revealed the tariffs of the packs. Seven packs come with 28 days validity and Jio apps subscriptions worth Rs. 1260 for free. The company will not charge for voice calls and SMS. Also, it charges a tenth of what its competitors are charging for 4G data. On an estimation, it's charging at Rs. 50 per GB and is much lower on packs with higher data bundles.
"Pay for only one service - either voice or data, not both," Ambani said. "World over, operators charge only for data, voice and messaging are essentially free. All voice calls for Jio customers will be absolutely free."
Reliance has also abolished the roaming charges. "Put an end to all voice call charges for all voice calls that are domestic," Ambani said. This applies to calls to other networks as well, not just calls within the network. Which means the entire network provides Roam like Home with no difference in local and STD calls or any extra charge for receiving incoming calls in roaming. Also there will be on SMS blackout days on festivals which means you can wish your relatives through SMS on Diwali and not wait for one day before or after. Jio also announced that students will get 25% extra LTE and Jio wi-fi data in all plans if they show a valid ID when signing up for Jio.
Detailed specifications of the 28 day validity packs:
The small pack starts at Rs. 149 offering the customer free voice calls, 0.3GB of 4G data, Jio apps subscription worth Rs. 1260 and 100 SMS for 28 days.
The medium pack costs Rs. 499 and offers free voice calls, 4GB + Unlimited 4G at Night, unlimited SMS, and 8GB JioNet Hotspot for 28 days.
Another Medium pack costs Rs. 999, offering the subscribers 10GB + unlimited 4G at night along with Jio app subscription and unlimited SMS. There is also 20GB Wi-Fi (JioNet Hotspot).
The Large pack costs Rs. 1499 comes with 20GB 4G data + unlimited 4G at night and 40GB of Wi-Fi data. Unlimited SMS, free voice calls, Jio apps subscription, and unlimited SMS comes as default.
The Extra Large Pack (XL) costs Rs. 2499. It comes with 35GB 4G data with unlimited 4G at night and 70GB Wi-Fi data.
The XXL pack costs Rs. 3999 offering 60GB with unlimited 4G at night and 120GB Wi-FI data.
The XXXL pack costs Rs. 4999 with 75GB 4G data with unlimited 4G at night and 150GB Wi-FI JioNet Hotspot.
RIL has activated Aadhaar based e-verification for SIM at the Reliance Retail stores in Delhi and Mumbai. This will soon be expanded to other parts of the country, so that the 4G SIM activation takes only 5-minutes and you can walk out of the store with an active Jio connection.
Jio has also introduced a price cut for its LYF brand VoLTE capable smartphones which will now start retailing from Rs.2999 upwards and the recently launched personal hotspot JioFi 2 has also received a price cut from Rs.2899 to Rs.1999. With this Jio is set to revolutionise the Indian telecom sector forever and has invited all Indians to do Data-giri on the lines of Gandhi-giri.
Mukesh Ambani has also reached out to the Incumbent operators and urged them to play fair and provide it adequate points of interconnect to complete voice calls and also comply with the guidelines set by TRAI to approve the huge number of port out requests they will encounter in the coming days.