BlackBerry today announced the launch of BBM Channels, the new social feed-based component of BlackBerry Messenger, for all BlackBerry smartphone users with a handset running BB OS5 or higher today.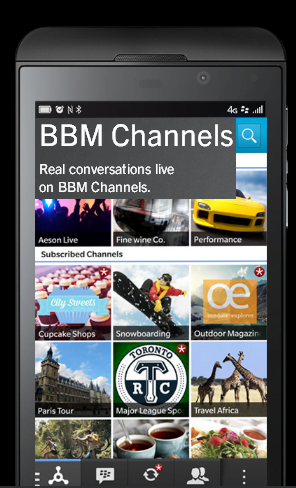 BBM Channels, a forum for active, real conversations between people, brands and communities, which is now available for BlackBerry users on BlackBerry OS 5 and above and BlackBerry 10 through BlackBerry World. BlackBerry users can simply update to the newest version of BBM to have access to the BBM Channels.
BBM Channels builds on BBM's strengths of engagement and communications and gives BBM users a rich community-building tool that will allow them to connect with brands, influencers and people of shared interests.
BBM Channels maintains the BBM core value of giving users' control over their content by allowing users to join or opt out of channels at their discretion and gives channel owners the ability to deliver content their communities are looking for. Channel owners can post messages, share pictures, spark discussions, post animated GIFs and chat directly with subscribers. Integrated live chat allows channel owners to offer "scheduled chat hours" where BBM users can directly engage with their favorite channels one on one.
During the limited beta for BBM Channels that began on May of 2013 we have seen people creating channels based on their passions and building communities with each other. This broader beta will give BlackBerry users the chance to try out a growing number of channels and build their communities, either through their own channel or through new contacts made through shared interests on other channels.
This beta period is also a great time for notable brands to test content and engage with users. For instance, Toronto Maple Leafs fans can go behind the scenes via the Leafs' BBM channel to get up close and personal with the team and engage in genuine conversations around their shared passion for Leafs hockey. In return, the Maple Leafs are seeing strong user engagement on BBM Channels.
BBM Channels for iPhone and Android devices will launch in the coming months.