Few days' back we have come up with an innovative campaign called Voice of the Customer – BSNL/MTNL and the reader's response was amazing. Thank you for all your support and valuable time in providing your feedback, comments and suggestions via TT platform. Now it's time for us to Talk and discuss about the results which we received from readers in the form of feedback.
Q1. What is your Connection Type with BSNL/MTNL?
Almost 91% of users who gave their feedback are Pre Paid users and only 9% are Post Paid users, this clearly shows that most of the users prefer prepaid freedom than post paid connection.
Q2.What is your connection Technology?
Among 205 user feedbacks received, 202 Number of users are on GSM technology while only 3 users are on CDMA technology.
Q3.Weather BSNL or MTNL?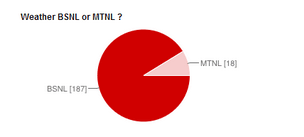 Q4. To which Telecom Circle you Belong?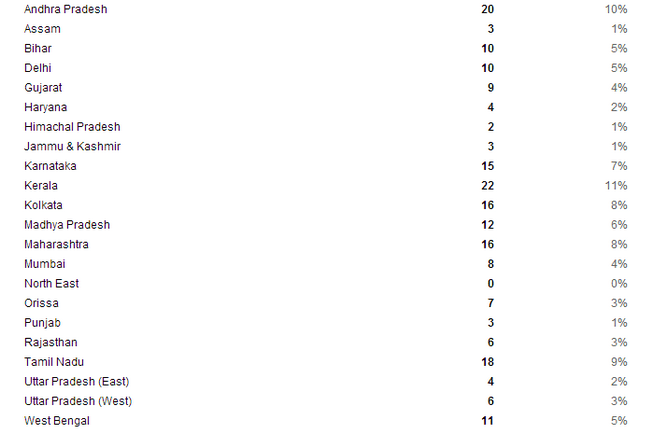 You can clearly see that Kerala BSNL stands first among users who gave feedback from all the circles followed by Andhra Pradesh and Tamil Nadu. This can also be used as one of the parameters to show the performance of BSNL and customer satisfaction from users of BSNL in those circles.
Q5. What is your Base Tariff Plan?
It is surprising to see that most of the users are on 1p/sec tariff followed by 1.2p/Sec and special tariff plans like Nestham or Vennela.
Q6.What is your age on Network?
The average age on Network by all the users is approximately 4 years while the highest and lowest age on network stands 12 Years and just 1 month.
Q7. What is the main reason for you to opt for BSNL/MTNL Services?
Users feedback reports that Network Coverage, Roaming, Transparency in billing, FNF and Affordable Data plans are the main reasons for users to opt for BSNL/MTNL Services.
Q8. Is your Choice and Reason for selection of this Operator Fulfilled?
53% of users report that their choice of selection of BSNL/MTNL is fulfilled followed by 31% partially and 16% came out with a No. This shows that BSNL has managed to achieve what they advertised and why users are on their Network.
Q9. Average Monthly expenditure on your Number?
46% of users report that their average monthly expenditure is above 100Rs and below Rs300, 20% of users report that their average monthly expenditure is above 300Rs and below 500Rs while only 18% and 1% of users report that their average monthly expenditure is below 100Rs and above 1000Rs respectively on their Numbers. This also shows that most of the users on BSNL/MTNL are premium users who spend comfortably on their monthly bills and love to be in touch with their circles.
Q10. What is the most you like in BSNL/MTNL?
58% of users like Network coverage the most while Plans and Tariff options and Transparency in Billing are equally liked (40%) by most of the users followed by No Disturbance services with 31% of votes.So from this we can also conclude that users mainly prefer BSNL/MTNL mainly because of Network Coverage all across India.
Q11. What is the most you Dislike in BSNL/MTNL?
No doubt, Customer Care is what 68% of people who gave responses Dislike the most in BSNL/MTNL Services followed by Data Uplink/Downlink Response with 45% Dislikes and Non availability of information like Plans, Offers, Packs via Website, Toll free Numbers and SMS with 44%.This clearly shows that BSNL/MTNL should definitely improve Customer Care service as well as quality via different modes like providing special Numbers, SMS and via email as well.
Q12. What is the most you like about BSNL/MTNL - 3G, Data Services on Mobile?
Coming to the next Generation 3G services, 67% of users like the affordable Data plans from BSNL/MTNL followed by simplicity 49% and Wide 3G coverage 47%.This clearly show that BSNL/MTNL should continue innovating in providing affordable data plans and also should badly improve Quality of Data Services provided on 3G.
Q13. Any further improvement required on Quality of Services according to you?
Provide Self Care portal
Customer Support
Increase Data speeds
Easy Activation of Plans via SMS
Regular Website up gradation with latest information on Tariffs
Improve Network Quality
Provide More Tariff Options
Are the most suggested and requested improvements from the customers who gave their feedback. Yes, definitely some genuine requests from users as far as I'm experienced with the Network too.
Q14. Are you presently facing any Problems with BSNL/MTNL Services? If so what are they?
SMS sending fail, Multiple Deliveries, Delayed Delivery
Call Drops
Data Uplink/Downlink Response
Effective Customer Care Resolutions
Are the most common problems customers are facing with BSNL/MTNL services. Dear BSNL/MTNL please try to rectify all these problems as soon as possible.
Q15. If you would like to Thank/Regret any Service from BSNL/MTNL, you can go ahead.
Most of the users thanked BSNL/MTNL for
- FNF schemes
- Good Roaming facilities
- Free Missed Call Alerts
- For being so simple and transparent
- For withstanding private Operators
- Location info via Cell Info services
- For Toll free numbers
- For affordable Data plans
- Coverage in Rural areas and also while roaming
I hope the best of the best Thanks to BSNL/MTNL came from users especially with this section of poll.
Q16. Ported from any other Network to BSNL/MTNL, Which Network and Why?
Most of the user's feedback shows that BSNL/MTNL is their parent Network and they are not from any other network while a negligible percent of users ported from various networks like Airtel, Aircel, Tata Docomo, etc. to BSNL.
Q17. How far are you satisfied with BSNL /MTNL services?
32% of users report that they are neutrally satisfied with BSNL/MTNL Services which can be seen graphically from the above report followed by only 10% of users who are very happy with the services.
Q18. Are you planning to Port to a different Network?
Though slightly more or less, It is a tie between Yes and No while coming to the question of planning for porting to a different Network? , 51% of users say that they are not planning to port out of the network while 49% of users plan to port out of network to a network of their choice preferably Vodafone, Airtel, Aircel, Tata Docomo, Uninor, Reliance etc..
Dear Readers after discussing the results how did you feel about the poll and services from BSNL/MTNL?
Also to mention this is not the end for giving your feedback on BSNL/MTNL services, the feedback form will be always available for readers and shortly we will also be embedding the results document on TT pages in a special section. Stay tuned for more polls on other Networks too.