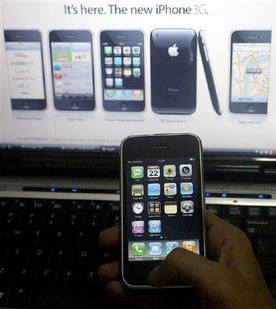 Iphone 3GS is all set to debut in India by mid august Airtel and Vodafone are gearing up to launch the latest iPhone 3GS version in India. Apple claims iPhone 3GS will be twice as fast as iPhone 3G with longer battery life the new version of Iphone 3G'S comes with a 3MP camera with auto focus and video recording feature which was missing in iPhone 3G.
Iphone 3G S includes the new iPhone OS 3.0 software with more than 100 new features including Cut, Copy and Paste; MMS; Spotlight Search to search across iPhone or within Mail, Contacts, Calendar and iPod; landscape keyboard for Mail, Messages, Notes and Safari; expanded parental controls for TV shows, movies and apps from the App Store; and the ability to capture and send audio recordings on the go with the new Voice Memo app.
iPhone 3.0 software also includes a new Find My iPhone feature that works together with MobileMe so you can locate your lost iPhone on a map, send a message that will appear on the screen or play a sound to help you find it even if your phone is set to silent.
If you cannot find your iPhone, you can erase all data and content on your iPhone with the new Remote Wipe feature.The new iPhone 3G S supports 7.2 Mbps HSDPA for faster networking speeds on average up to twice as fast as iPhone 3G, so you can render web pages quicker and launch applications faster. iPhone 3G S takes advantage of the OpenGL ES 2.0 standard for stunning high quality 3D graphics, making mobile gaming and other graphic intense applications better than ever with longer battery life.