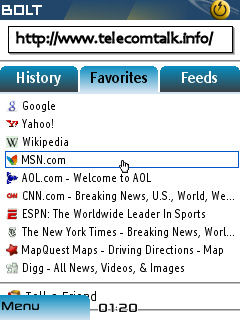 Three months after its public debut at Mobile World Congress in Barcelona,Bitstream Inc web browser for mobile phones has taken Indians into its pocket, BOLT has more active users in India than in any other country.
Today one in six of BOLT's active users reside in India where users have visited more than 4 million web pages and consumed more than 1,000 gigabytes of bandwidth using the mobile browser since it debuted in February of this year.Optimized to conserve data transmission, BOLT features unrivalled speed routinely at least 25 to 50 percent faster than competitors like Opera Mini, UCWeb,Tshark and other mobile browsers.
The WebKit based BOLT browser offers ultra fast viewing of streaming and flash video, rich media and graphics that enable people to view websites just as they do on a PC.
BOLT's browsers includes set of features like Fast, secure, desktop-style web browsing on both high end and low end handsets Streaming video capabilities Split screen and full screen modes for easy navigation and viewing Easily add and select favorites and view browsing history Intuitive keystroke shortcuts for easier navigation and content selection Protection against spyware and faulty add ons to download bolt browser one has to visit http://boltbrowser.com/download.html and submit his Name along with his email id when it's done you will be redirected to the download page and you are done.