Following the launch of Wynk Music and Wynk Movies, Bharti Airtel has announced the launch of 'Wynk Games', India first mobile app-based gaming destination. Wynk Games will accommodate over 2000 games, including premium and paid titles as well as games of local genre. For Airtel users, Wynk Games subscription is free, whereas the customers of other service providers can access it for INR 29.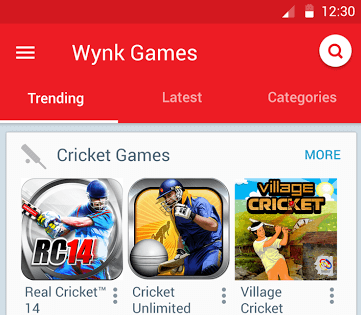 "By subscribing to 'Wynk Games', customers can enjoy a host of games at no additional cost – this includes many games that are typically found as 'paid' elsewhere. Also, though customers download various games for free, they often can only play a few levels of the game before hitting locked levels and getting prompted to make coin purchases to continue. 'Wynk Games' does away with all these challenges and allows customers to enjoy complete games," said Kartik Seth, CEO – Wynk, Bharti Airtel.
"From music, to movies and now gaming – Wynk is now a full entertainment OTT brand. The market has shown tremendous response to Wynk services so far, thus building a compelling case for us to venture into the ever popular gaming category. We are excited to launch 'Wynk Games' and invite gaming lovers across India to download the app now and get started", added Sheth.
Airtel has tied up with Playphone Inc., a GungHo Subsidiaria and Softbank group, California for providing enough content under Wynk Games. "With our partnership, Indian developers on 'Wynk Games' will also automatically get published in countries where Playphone is present – thus giving them opportunities to expand their reach across other global as well as emerging markets. Developers require only about 10 lines of code to adapt their app to the subscription platform for 'Wynk Games' and can register online at developer.playphone.com", said Sheth.
The service is also ad-free and is compatible offline.