LG Electronics, in a joint initiative with Airtel and Qualcomm, has set up an LTE experience zone in Bangalore, for consumers to come and experience the blazing high speed service and innumerable possibilities of 4G LTE.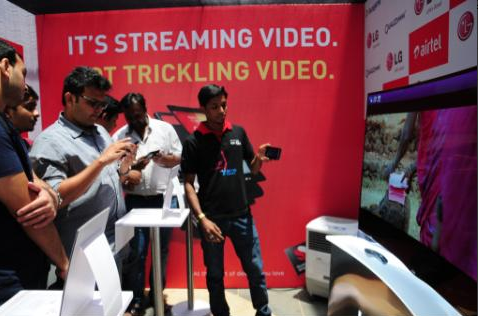 The LTE zone, which will be live for three weeks starting from 26th March which will features LG's very own 4G- enabled G2 LTE smartphone that streams full HD videos/ movies from the cloud using Airtel's LTE network, and mirrors it live on LG's Curved OLED TV.
Packed with exemplary design, exceptional features and smart specifications, the 4G LTE LG G2 builds upon the case of an incredibly fast internet service, which amounts to superior video streaming without any buffering time. By delivering the quickest internet possible, LG's G2 4G LTE smartphone caters to brisk work processes, lowering the time spent on internet activities considerably. The new 4G specification provides ease of access and seamless multitasking between personal and professional needs.