Reliance communications recently migrated its CDMA subscribers to 4G platform, this included also subscribers who used CDMA based fixed wireless phones (FWP). At the time of upgrade, the company had offered its subscribers a GSM based FWP instrument, but now it has launched a futuristic 4G based VoLTE enabled FWP device, which is an industry first.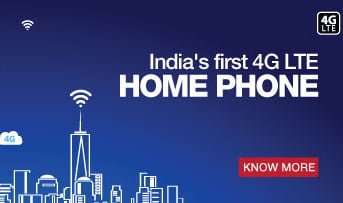 The device looks like a regular landline telephone but instead of the traditional copper wire it is connected wirelessly to the Rcom 4G network, which means it can be freely carried to anywhere across the country where Rcom has 4G service. The FWP has an antenna which has dual functionality, it receives the LTE signal as well as emits wi-fi signal thus acting as a router which is capable of connecting to 8 devices simultaneously.
The 4G FWP which is based on Android 5.1 supports Voice over LTE which means calls are made in HD voice quality. It supports SMS and cascading of YouTube to smart TV. The tariff plans ensure that after exhausting the bundled 4G data usage of 2 and 4 GB, the data connectivity will be stopped and users can then subscribe to data addon packs to continue to enjoy data services, thereby eliminating a bill shock.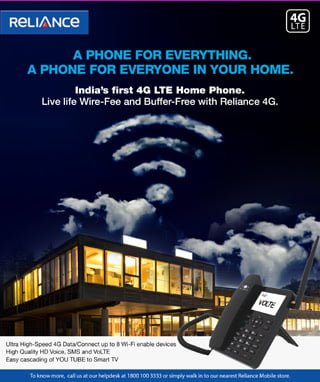 Reliance 4G FWP tariffs:
Plan 1
4G Smart Life 299
Plan 2
4G Smart Life 499
Monthly Rental (Rs.)
 299
 499
Voice Minutes (All Local, STD, Roaming)
300
300
Data Benefits (GB)
2GB
4GB
Tariff After Free Mins (All Local, STD, Roaming)
40P/Min
40P/Min
The details of the tariff plans of the 4G FWP are given in the table above. All bundled voice minutes are usable for both on-net and off-net calls to other networks, both mobile as well as landline, local as well as STD and national roaming (Incoming calls in national roaming are also deducted from minutes balance). After exhausting the minutes balance, calls will be chargeable at 40p/min. All SMS will be chargeable at 25p for local and 38p for STD in both home as well as national roaming.
Inputs : Kaushik, Siva Shankar Bellana