PressPlay TV, the video streaming app plans to build India's largest video content discovery & distribution platform across mobile devices. The delivery will be done via hotspots and internet (3G/4G). The wireless hotspots will be placed across top bus travel operators, railways, hotels, hospitals and QSRs (Quick Service Restaurants). Currently, there are more than 2,500 PressPlay hotspots across India. These will be increased to 10,000 by the year-end.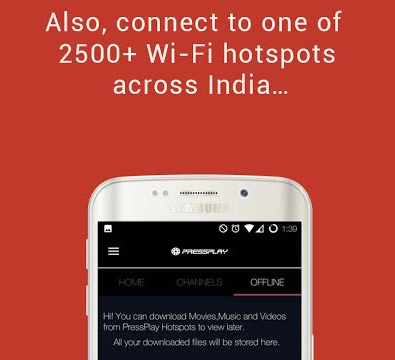 Through the new venture, PressPlay TV promises to be a revolutionary next generation video streaming platform that will redefine the way video content is consumed in India. It has already tied up with leading movie studios, video content companies and popular independent artists to offer best in class content. Viewers can watch or download latest free Movies, TV Shows & Videos for free in HD at superfast speeds without any buffering.
"We started PressPlay TV with a mission to make high quality, curated and best-in-class video content easily accessible, anytime and anywhere, to consumers - across platform and devices. Reflecting the true spirit of the 'Make in India' initiative, we dug deep into our own experiences and insights to customize and refine the PressPlay video delivery model especially for Indian conditions. The aim is to make the transition from off-line streaming to on-line streaming, seamless. As a first step we have recently launched the PressPlay TV android app," said Anand Sinha, Co-founder & CEO, PressPlay TV.
PressPlay TV android app enables viewers to watch curated, latest short trending videos from across the internet in more than 30+ channels like Bollywood, gadgets & technology, Comedy, TV Shows, Music & more, on any smartphone or tablet. Users will be able to enjoy movies and TV shows from March 1, 2016 on the PressPlay TV mobile app. The app is available free on the Google Play store. The iOS version will launch soon.