Oxigen Wallet is a prepaid mobile wallet that empowers customers to store their cash practically into their cellphones. Your mobile number turns into your ID and it permits you to transact through SMS, Web or a mobile application(at present accessible on Android). Let us tell how you how exactly does it work: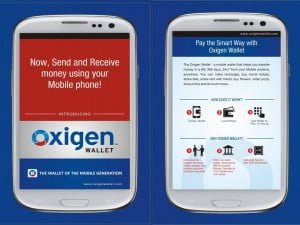 Step 1 :
Create a free wallet by
Sending  SMS   ( OXIGEN*AGREE*DOB(DDMMYY)*Full NAME or
Download app on Android  from Google Play Store  or
Register online on www.oxigenwallet.com
Step 2
Load Wallet with money through
IMPS through 60+ banks or
Credit Card/ Debit Card or
Pay over the counter at Oxigen retail stores or select Modern Trade Outlets
Step 3
Pay using your Wallet for any of the following services
Instant Money Transfers to any mobile number or bank account
Instant Recharges of prepaid mobile phones, DTH, Data card
Bill payments of post - paid phones, Land Line , Gas & Electricity
Online shopping on 2000+ websites through payment gateway integration partners e.g. Bill desk, CC avenues etc.You can pay using your Oxigen Wallet on BookMyShow, EBay, Ferns N Petals, GoDaddy , Domino's pizza and the likes.
The unique selling proposition is the fact that you can transfer money to anybody on any any network (unlike Airtel which allows only for Airtel transfers). And you can send money to your friends who do not have a wallet too and they just need to open up a wallet within 7 days of you transferring the money to avail the same. Just in case they don't, the money gets credited back to you.
You just need to be above 18 and the minimum balance required is Rs 10. They follow bank grade security methods so there are less chances of getting into a fradulent transaction. So do let us know as to what do you think about the latest service.