The much awaited application from Nokia, "Nokia Internet Radio" is back again on Ovi store after 2 years. This time for Nokia S60V5/Touch edition mobiles to deliver internet radio shows from various places of the world.
Though Internet Radio application is available to the earlier versions of symbian OS mobiles the new version for S605th/Touch mobiles is improved compared to the earlier in terms of audio quality and personalization and it does not disappoints the user.
The internet radio application enables you to listen to radio stations from all over the world on your phone over the internet easily accessible over GPRS, EDGE, WLAN, 3G or HSDPA networks. Once the installation of the application completes you need to agree the terms which pops only for the first time you open the application.
Then you are asked to select the required connection you like. Don't use it over HSDPA/3G unless your data tariff can handle it, we suggest to get connected to Wi-Fi. This is a gift to the likes of Nokia 5800 Xpress Music and Nokia X6, the Great music handlers from Nokia.
The playlist looks similar to that of the earlier version. You can select/search stations from
1) Region 2) Language 3) stations Played 4) songs played 5) Favorites 6) Genres
Without navigating anywhere to play your favorite station, there is also a search directory to enter the name of the station manually and search for it.
It has also got option to share your favorite station with your friends/Family (through a .pls playlist file sent as an attachment via message), and also a link to the Ovi Store. Though it just opens the Ovi Music store, we are excited if there is any update in future to buy the song from Ovi music which is currently being played. It has also got an option to favorite the station currently being played, and all your favorite stations can be found at a single place. You can even get in-depth details of the station from where it is being aired, bit rate and other info also.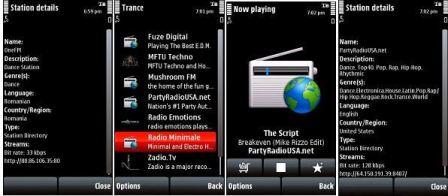 There is also a banner or something like an Add on the top of the application which you can see from the pictures (Join SOS). We are amazed to see that almost all genres/languages/countries stations are available in this application. There is a station available for BBC listeners too, so that you can listen to the news on the go.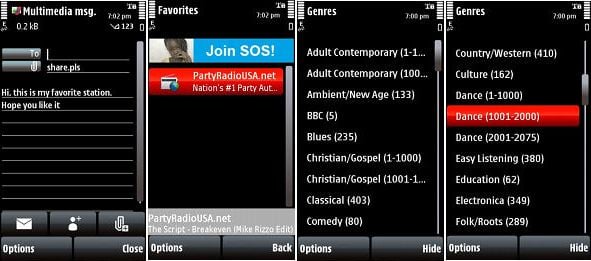 We also like to share a couple of pictures of what all stations are available which are arranged alphabetically. The number side of the station indicates the number of stations available at that time. You also have got an option for selecting the download quality to Standard or High.
Nokia Internet Radio is available FREE of cost from OVI Store and the only charges will be of data usage for streaming audio. We hope Nokia internet Radio Rocks the ears of music fans.
Do tell us how you use this application apart from normal FM Radio and what you think of Nokia Internet Radio in comments. We love to hear from you.
You can download the S60 5th Edition version from the Ovi Store.