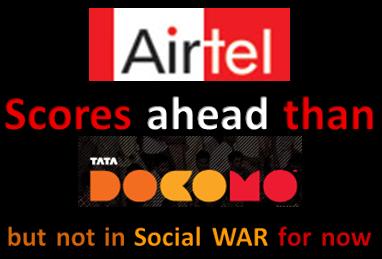 It seems that though Bharti Airtel didn't kick off 3G campaign very well if compared with TATA DOCOMO at present but not to forget that Bharti Airtel being the king of telecom with over 130 million subscribers.
With huge media presence and also which acquired cricketing media rights recently can turn the tables at any time.
Also, adding to the fact that TATA DOCOMO which failed to acquire 3G wireless spectrum in a key metro circle like Mumbai and also it's still not clear when it's going to enter the Airwaves of Delhi.
It's more important to enter key circles like Mumbai and Delhi as the ability to spend on new technology like 3G is very high compared to other circles as 3G access requires high end handsets where TATA has to work hard to build customers and also its network as it's a new entrant.
So, i would say that it's a double blow to the new entrant like TATA DOCOMO as it needs to add more subscribers plus also it needs to improve coverage which would at least set a platform for a road to recovery of huge money spent on 3G spectrum.
Let's have a look what Airtel and TATA DoCoMo have loaded their websites with?
Where Airtel targets to empower consumers on what's all about 3G, TATA DOCOMO chooses to publicize its "3G LIFE" brand .But for now TATA DOCOMO seems to be rolling as it has created a 3G social hype.
Where TATA DOCOMO claims to offer "Best 3G network, 3G service with most attractive 3G tariffs and the fastest 3G" by itself even before launching its 3G services then you yourself is wise enough to catch such social marketing gimmicks. Let's have a look at what TATA DOCOMO chooses to say?
On other hand Airtel looks to be wise and chooses to empower subscribers with 3G knowledge. Let's also have a look at what Airtel is spreading the word via its 3G web portal, as Airtel says "Discover a world of possibilities with 3G on your mobile" which i think is quite a realistic than what TATA DOCOMO's trying to spread.
Time will only tell whether TATA DOCOMO's Maharashtra, Gujarat, Karnataka, Kerala, Punjab, Haryana, Uttar Pradesh (West), Rajasthan and Madhya Pradesh circles will b manages to RACE or Airtel's presence in Delhi, Mumbai, Andhra Pradesh, Karnataka, Tamil Nadu, Uttar Pradesh (West), Rajasthan, West Bengal, Himachal Pradesh, Bihar, Assam, North East, Jammu & Kashmir
With mere less than a fortnight for smelling the Diwali smoke, it can be still anybody's game in this Great Indian Telecom Bazaar as most of the telcos are planning to commence 3G from Shubh Diwali.
Last, but not the least it will be better if Operators increase large amount of money in building their network rather than wasting time in pursuading people to try their networks.