Digital cameras are witnessing a drop in sales because of the fact that smartphones these days are coming up with some great imaging technology and better resolutions. Ultra-pixel cameras, resolutions as high as 21MP and what not. Now that the Android powered smartphones are coming with camera of pretty good resolutions, amateur photography has taken a completely new turn.
Perhaps that's the main reason for an increasing demand of good camera applications for Android enabled smartphone devices. Here is the list of top 5 camera applications for Android:
Camera Zoom FX: Google Play Store ratings for the Camera Zoom FX application is 4.4 stars out of 5. It is undoubtedly the premium high quality camera imaging application that feature professional level setting for stable shots, ISO for darkened shots, night shooting white balance and a range of post processing options as well. As far as I am concerned, this is the best one of the lot and I am a personal fan of the same.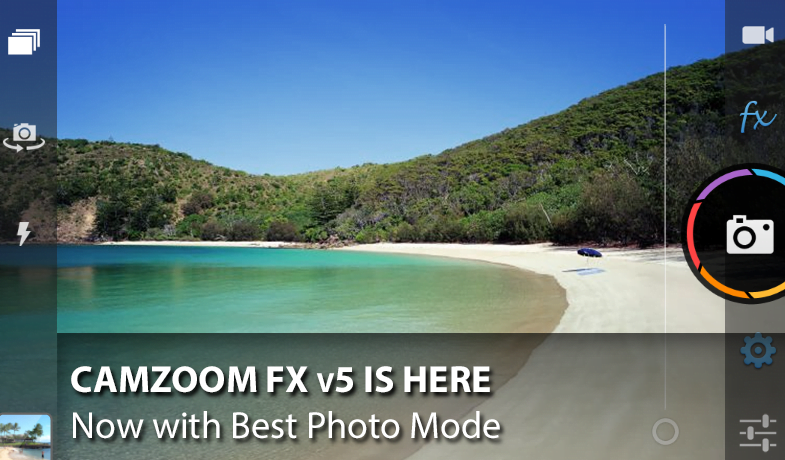 Vignette Demo: Google Play Store ratings for the Vignette Demo application is 4.4 stars out of 5. It features post effects like duotone, cross-process, charcoal, etc. Vignette Demo offers settings for clicking superfine images that can be customized in sharpness, contrast, exposure and saturation. It gives your images that extra edge after editing.
Fast Burst Camera Lite: Google Play Store ratings for the Fast Burst Camera Lite application is 4.1 stars out of 5. This app enables you to capture 30 images a second with continuous burst and zero shutter lag. It is best suitable for a high end camera. Fast Burst Camera Lite is a useful app while you are shooting animals or small children. And its not restricted to just them, but every other fast moving object. Thus, enabling you to get the right shot with the press of a button.
HDR Camera: Google Play Store ratings for the HDR Camera application is 4 stars out of 5. It allows you to capture details in the dark as well as bright areas of the photograph scene. It enables you to take arty photographs. The ones who are fans of landscapes will appreciate the functionality of this application and the slew of editing options make life easier.
Instagram: Google Play Store ratings for the Instagram application is 4.6 stars out of 5. This is the most fun application that enables you to take as well as share photographs. It allows you to add a filter, such as tilt-shift effect, blur, vivid Lux, before sharing your pics on social networking websites. This is by far the Godfather of smartphone image sharing and every application will have to go miles before it becomes something like an Instagram.