Latest subscription data from GSM operators lobby, COAI, revealed that Bharti Airtel has added maximum subscribers in the month of January, 2016. A major portion of the new subscribers Bharti Airtel has added is for their 4G services. The seven major GSM operators combines now have 761.44 million customers, up by 5.82 million (0.77%) compared to the month of December.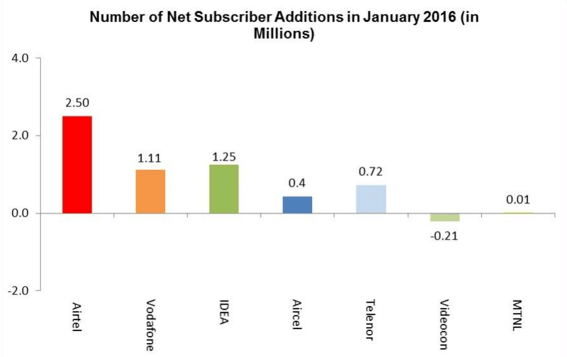 Bharti Airtel, the largest cellular operator has added 2.50 million new customers in this period taking their total subscriber base to 245.79 million. Idea cellular ranked second by adding 1.25 million subscribers to its base. Another large telco, Vodafone bagged 1.11 million new customers and is ranked third behind Bharti Airtel and Idea cellular.
Other smaller GSM operators continued to follow the same trend as past few months where they had lost more customers than those added. Aircel added 0.4 million subscribers, Telenor had 0.72 million activations, and MTNL added just 0.01 million new customers to their networks. Videocon Telecom performed worst among the lot and lost 0.21 million customers.
UP East circle got maximum new subscribers for the month with 0.84 million additions. Maharashtra and Bihar also got more than 0.60 million subscribers respectively.
Also , UP East circle remain the top circle with maximum subscribers among all 22 circles with 68.18 million subscribers. Bihar & Maharashtra circle also are the next two large circle's with having 60 million subscribers in each.
Bharti Airtel remain the largest telecom operator with 245.79 million subscribers. Vodafone was at second position with 194.71 million subscribers . Idea secured third spot with 173.16 million subscribers.
Aircel & Telenor stood 4th & 5th with 86.07 million & 51.43 million subscribers , respectively. Videocon continues to lose out subscribers & currently have 6.75 million customers.
Note: COAI data does not include GSM/CDMA subscriber data from Reliance Communications,MTS , Tata Teleservices, and BSNL who do not report to COAI.