Copying MyJio app, Bharti Airtel has revised MyAirtel App with new sets of applications. Under the new MyAirtel App, there will be a section "Airtel Apps" showing a list of top apps. Many of these can be accessed without any subscription charges. However, normal plan/pack data charges will apply on all the mobile applications on MyAirtel App.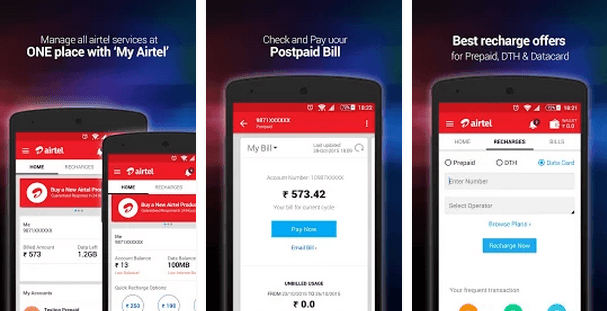 Ditto TV, Hike Messenger app, Wynk Music and Wynk Movies, Juggernaut are some of the apps available under new 'Airtel Apps'.
Commenting on the integration of apps section, Harmeen Mehta, Global CIO & Director – Engineering, Bharti Airtel said, "As part of our Digital Airtel initiative we are excited to bring you the new avatar of the MyAirtel App, which now offers a unified interface to the entire suite of our popular mobile apps and several new ones. All these apps have been curated to ensure customers are offered the best of the web, with more exciting apps and partnerships coming in the near future. We would love everybody to experience the new version of the myAirtel app and join us in making it better and better."
The customers who have MyAirtel App installed on their smartphone can update the app to receive the new features. Others can download the app from Google Playstore (for Android) and App Store (for iOS) to get the new revised MyAirtel App.
Airtel Apps
Ditto TV

Watch over 100 Indian LIVE TV channels and Catch Ups of shows anytime and from anywhere. Stream your favourite TV serials live, watch Live News and sports events.

Exclusive offer of no subscription charges for Airtel users.

Juggernaut

The easy way to Discover and Read Books.

You're waiting in line to pay a bill, or stuck in a legendary traffic jam or maybe you're just sitting on your pot. With over 1500 books to browse, read and actually finish.

With Airtel Apps enjoy 5 free books
Wynk Music

Enjoy great music from a collection of over 2.5 million songs in 12 languages, carefully curated playlists across genres and moods

Hike

Chat with your friends with over 5000+ stickers for every mood and moment. Share files without internet using Hike Direct, get latest news updates

Wynk Movies

Stream and download unlimited Movies, TV shows, music videos and popular video clips across Bollywood, regional and International content.

Wynk Games

Single destination for the best games. 2000+ premium games with ad free, uninterrupted play

Airtel Cloud

A new app developed in-house by Airtel. Enjoy 2GB of free cloud storage and back up all your important data.

No data upload charges for the scheduled overnight backups for prepaid customers currently; benefit will be available for postpaid very soon

Airtel Dialer

A new app developed in-house by Airtel. Get real time balance information, manage call details and get 50 minutes of free Airtel-to-Airtel calling benefits

Airtel Money

Shop, pay bills, transfer money and do recharges in a convenient fashion with your smartphone
Something to look forward in the new Airtel app will be Airtel Cloud and Airtel Dialer. Airtel Cloud provides 2GB of free cloud storage and backup. If scheduled overnight backups, prepaid customers will not be charged with any data charges. Postpaid users are yet to get this benefit. Airtel Dialer, on the other hand, offers 50 minutes of free Airtel-to-Airtel calling benefits, in addition to its call management feature.