Recently Aircel relaunched its 2G/3G service in Kerala circle. Aircel connection is now widely available across most retailers in Trivandrum and Palakkad cities. We have checked with retailers and obtained the tariff details offered by Aircel in Kerala.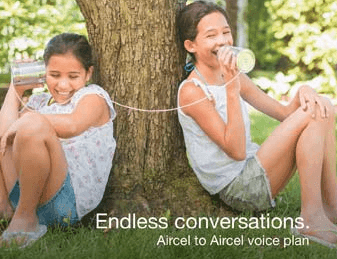 Aircel offer ultra cheap tariff in Kerala circle through its new FRC 55 and 135. Both FRC offer Rs 55 talktime along with reduced tariff of Onnet at 10p/min and offnet at 30p/min for local/STD calls with validity of one year. FRC 55 has bundle data of 100MB/month for 12 months and FRC 135 offer 1GB for 30 days. Further, both packs offer free roaming incoming calls while roaming in Tamil Nadu circle. Data usage beyond free limit are charged at affordable rate of 25p/MB.
FRC
FRC
 
Choice FRC
Smart FRC
FRC
55
135
Talktime
55
55
DATA
100MB/month*12
1GB (30 days)
On-net Calls (Local & STD)
10p/min
10p/min
Off-net Calls (Local & STD)
30p/min
30p/min
Roaming Benefit
TN Roaming Incoming Free
TN Roaming Incoming Free
Data base Tariff
25p/MB
25p/MB
Tariff Validity
1 year
2 year
3G/2G Data Packs
Data Packs (3G/2G)
MRP
Validity
Benefit
15
30
100MB
35
30
250MB
65
30
500MB
125
30
1GB
Aircel is offering lowest 3G data tariff in the country and giving validity of 30 days for all data packs starting from Rs 15 to Rs 125. The lowest data pack Rs 15 offer 100MB data for 30 days and Rs 35 data pack offer 250MB for 30 days. While Rs 65 and Rs 125 pack offer 500MB and 1GB data for 30 days.
SMS Packs
SMS Packs
MRP
Validity
Benefit
25
15
500 L/N
45
30
1000 L/N
95
30
100(L/N)/Day
Aircel has three SMS packs offering cheap SMS tariff. Rs 25 SMS pack offer 500 local/National SMS for 15 days and Rs 45 pack offer 100 Local/National SMS for 30 days. The highest SMS pack available is Rs 95 pack offering 100 SMS/day for 30 days.
Combo Packs
Combo Packs
MRP
Local + STD Mins
DATA(MB)
SMS
Validity
99
300
200
500
30
199
700
400
1000
30
299
1200
750
2000
30
Aircel has three combo packs offering Local/STD mins + Data + SMS. Rs 99 combo pack offer 300 STD/Local mins + 200MB + 500 SMS for 30 days. Rs 199 combo pack offer 700 STD/Local mins + 400MB + 1000 SMS for 30 days. Rs 299 combo pack offer 1200 STD/Local mins + 750MB + 2000 SMS for 30 days.
Full Talktime and More Than Full Talktime
Aircel is offering full talktime on all Topup denominations from Rs 10 to Rs 90. For recharges Rs 100, 200, 500 and Rs 1000 subscribers will get more than full talktime of Rs 110, Rs 225, Rs 575 and Rs 1200 respectively.
Aircel came back to Kerala with one of the lowest tariff ever introduced in India. But the service is still available only in two cities Trivandrum and Palakkad which is said to expand soon to other cities. Finding new subscribers will be a hard task for Aircel as people no longer consider Aircel a reliable operator since its unexpected exit from circle two year ago.
Do let us know by comments your views on Aircel tariff for Kerala circle.