Vodafone IN has launched 5 postpaid plans for Karnataka Circle starting this December 2013 for new and existing customers. These 5 postpaid plans are in price segments of 199(/sec & /min), 299 and 399(/sec & /min) respectively and also come with good monthly benefits. My opinion immediately after analyzing these plans is "These Plans are really created with an intention that a general customer should opt for without a second thought to choose from per sec and per minute plans at affordable prices."
The details of all the 5 plans launched are as below:
After observing the price tags 199,299 and 399 of Vodafone, this clearly shows that these plans are launched with an intention to give tough competition to Airtel's My Plan 199,299 and 299. Now, let us analyze what really these two operators are providing to their customers.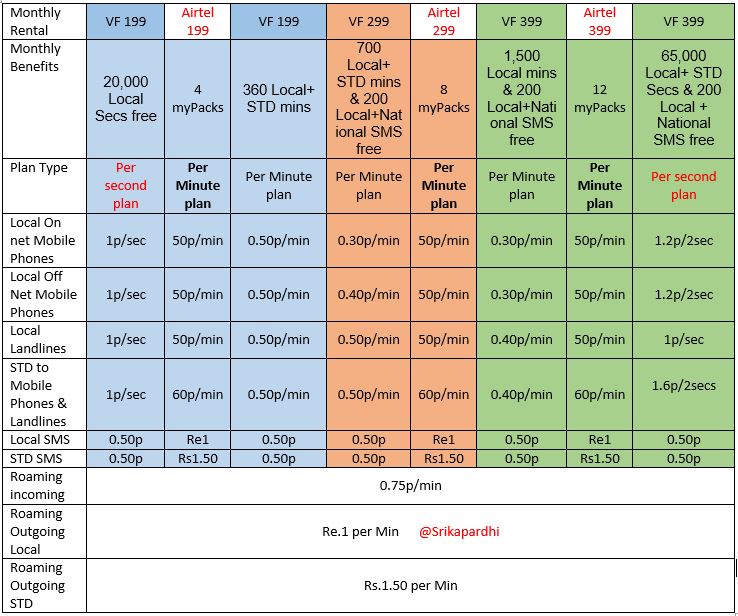 If we observe all the plans and benefits we can conclude:
Pulse: Vodafone is providing per/sec and per/min tariff whereas Airtel's MyPlan is only having per/min tariff in all the plans. Also Vodafone reduced base rates of calls to 30p, 40p and 50p in some plans.
SMS: Though Vodafone plans lack the flexibility to choose your own sms packs it is giving default sms (Local/STD) for 50paise in all the plans while 199 and 399 plans have free sms benefit included too whereas Airtel is charging base rates as indicated in the table.
Actual Free Monthly Benefits: If we clearly observe Vodafone Monthly freebies all Local or STD seconds/Minutes can be used for all Local or STD calls (Mobile/landline) but Airtel's MyPlan Freebies can be used only with Mobiles as the freebies clearly state Local Mobile Minutes or STD Mobile Minutes which is a drawback.
Roaming: Roaming tariff is same in both Vodafone's and Airtel's plans.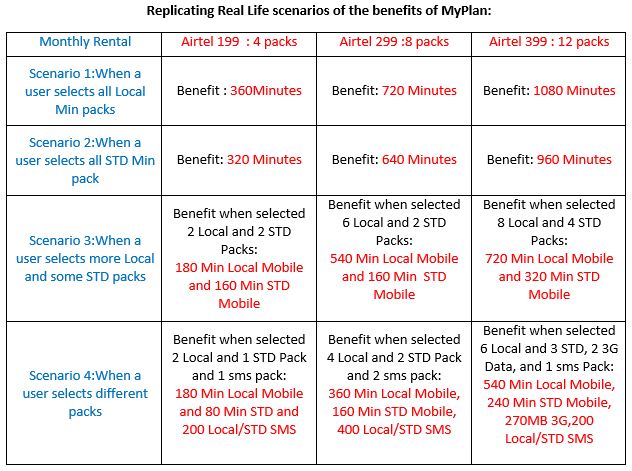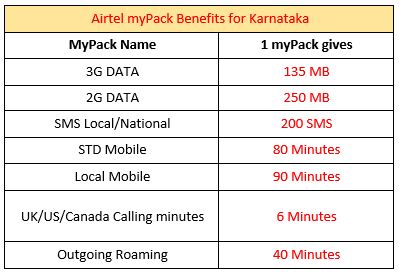 Conclusion: Vodafone IN plans are value plans a customer can afford whereas Airtel MyPlan plans are completely flexible packages created by you just for you. After all it's the amount of Calls/SMS or Data used by a user that will give the right value for the money spent. So, in my opinion if you ask me I'll opt for VF 199 per second plan in lower segment or VF 399 per second plan in higher segment as no plan in Airtel's myplan even if it is made by me for me is completely satisfying any particular usage pattern because if we observe we are truly getting less value or distributed benefits which do not completely benefit us in any way. I made a best possible attempt to make it very clear which are the best plans to opt for in the form of comparisons and after all in the end everything is based on personal opinion and usage patterns.
If you are a user who is planning to switch to any of these two operators just for good postpay plans  i will say "If you want your conversations to be flexible go for Vodafone Plans, if you want your plan to be flexible go for Airtel Myplan."
Let me and other users know via comments which plan will you choose from in case if you go for one ?