Remembering USSD codes to fetch the data and voice call balance is now history. A few smart apps have been released to help everyone through their simple billing system within a single app.
The new 'smartbro' app from a start-up called Optinno Mobitech (known for their immensely popular Clean Inbox- smsBlocker app) is the new entrant to the smartphone age. Unlike other apps, smartbro is quite unique due to its clean user interface, intelligent alerts and comprehensive tracking. One can easily track their daily, monthly bill & usage, be it data, SMS, or voice calls.
As it's based on operator-based pop-up with its own data analytics engine, it can figure out the exact balance. Among one of the coolest & most unique features of the app- it automatically shows latest talktime balance of both SIMs on the dialer pad, which can help you in making calls without any ambiguity about remaining balance.
Moreover, the app supports dual-SIM feature, and it can track both SIM's usage at same time. In our test, we found out that it worked perfectly. The app gives very detailed information about a user's data usage and other such information, which otherwise is very difficult to get or not available at all, like the prepaid bill!.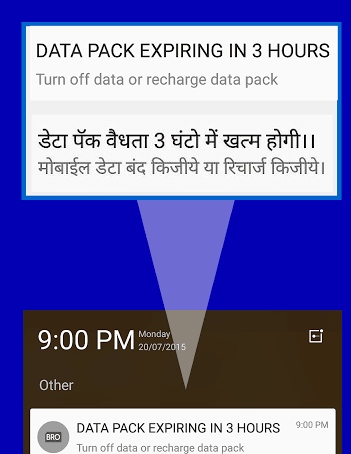 It also has a data meter that tracks background data process and shows app-wise data usages. You can also set an alert reminder to prevent balance deductions post data pack validity expires. The app alerts three hours before the expiration of data pack, so you won't lose extra money.
The developers of the app have shared that it will get support for checking rate-cutter details and validity very soon. Also, they are also working to bring support for regional languages other than present Hindi, Marathi, and Gujarati languages.
However, for the first time after downloading the app, you have to put right USSD codes to the app as some codes of the app may differ from current code in your circle. The app also requires accessibility permission on your phone.
Here you can get a look what smartbro offers:
• LIVE BALANCE
- On phone's dialer smartbro magically shows latest talk-time balance of each SIM. Just open your phone dialer to make a call and smartbro will display available balance.
- No need to remember any code or manually check balance.
• IMMEDIATE BILL
- smartbro gives postpaid like detail bill for your prepaid, that too instantly.
- Know detail of every single Rupee or Paise spent on call, SMS, or data. No more suspense on where your balance is going.
• DATA BALANCE
- smartbro automatically shows your latest data balance and the expiry date.
• SMART ALERTS
- Lost money becuase you didn't remember pack validity? Now smartbro will take care. It reminds you before data pack expiry.
- Low talk-time alert.
• DATA USAGE DETAILS
- See mobile data consumption of each app on daily basis.
• EXTENSIVE COMPATIBILITY
- smartbro works on almost all single as well as dual SIM mobiles.
- It works even offline.
- Fully compatible with Airtel, Vodafone, Idea, Tata Docomo GSM, BSNL, MTNL, Reliance GSM, Aircel, Telenor, Videocon, T24.
- It works across India.
As maximum customers in India are prepaid customer and companies don't generate monthly bills for them. For a special bill request one would have to pay Rs. 50, so apps like smartbro could make easy to get a clearer view of monthly usage and track the data usage. Its Smart Alert feature would also cut down risk to lose money in unexpected ways. As the app gives clear & consistent information in local languages, it is also very useful for lot of Indians who do not understand English communication from their mobile operator.
You can get the app from the Google Play Store.