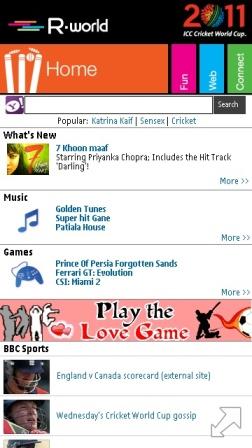 Reliance Communications today announced its plans to roll-out a Next Generation Mobile Portal (R World) to deliver a host of futuristic Mobile Internet and Data Services to its over 125 million customers.
The new portal will be live in its 3G, GSM and CDMA mobile platforms.
Breaking the language barrier, Reliance intends to offer a new multi-lingual R World that will offer personalization option in Hindi, followed by other popular regional languages.
R World  has also designed to deliver high value and highly relevant content and applications on the mobile platform which will have easy to access M-Commerce options and highly targeted M-Advertising capabilities are amongst the key futuristic features.
Key features which Reliance intends to make available through R World:
· Highly-targeted mobile marketing and advertising campaigns, to further monetize the mobile Internet experience
· Localized regional content to serve individual consumer interests and tastes
· Multiple language support, starting with Hindi, the native language of over 250 million Indians
· Location-based services to help ensure users get what matters most to them based on where they are at any given time