At the Nokia World event held today in London, the Finnish phone manufacturer has unveiled three new handsets Nokia E7, Nokia C7 and Nokia C6 that will come equipped with the latest version of Symbian.
The Nokia E7, Nokia C7 and Nokia C6 will feature more location based services and social network integration, as well as a host of improved and revamped Ovi services.
These new smartphones which join the previously announced Nokia N8 to form a family of Symbian products. - The latest version of the Symbian platform brings more than 250 new features and improvements and retains the familiarity enjoyed by millions of smartphone users worldwide.
Speaking on the launch of new smartphones, Niklas Savander, Executive Vice President, Markets, Nokia said "Today our fight back to smartphone leadership shifts into high gear, Despite new competition, Symbian remains the most widely used smartphone platform in the world. Our new family of smartphones introduced today feature the all-new Symbian OS, rewritten to be faster, easier to use, more efficient and more developer friendly. Savander also commented on the high level of anticipation for the Nokia N8. "Based on the level of consumer interest and the highest online pre-orders in Nokia history, we expect big things from the Nokia N8.

Nokia E7
The Nokia E7 is the more business minded of the three phones, coming packed with features like Microsoft Exchange ActiveSync allowing access to corporate email inboxes, Microsoft Communicator Mobile and Microsoft Share Point Server.The E7 provides direct, real-time and secure access to corporate email inboxes and other personal applications. The device features a sliding QWERTY keyboard making it an excellent smartphone for professional users who may spend a lot of time tapping out Emails on their phone. The E7 Equipped with a 4 inch touch sensitive screen display featuring Nokia ClearBlack technology for improved outdoor visibility and a full keyboard, business users will find the Nokia E7 is the perfect shape and size to work on documents, review spreadsheets, or read and edit slides. The E7 power packed with all multimedia and entertainment tools and access to all Ovi services.The E7 is expected to be priced at about € 495 (Rs 29,500).
Nokia C7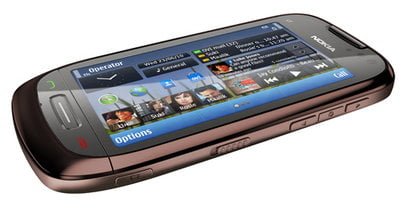 The new entrant to Nokia's C-family-Nokia C7 is beautifully crafted, sleek social networking smartphone makes the most of the new social networking features introduced to the latest version of Symbian. It has a 3.5-inch AMOLED and comes with an 8 mega pixel camera along with 8GB of onboard storage.The C7 will give live updates from Facebook, Twitter and your email accounts directly to the phone homescreen, so that you can stay in touch with the latest goings on without needing to actively check these individual services. The C7 Sporting a 3.2-inch AMOLED display with full touch capabilities and Nokia ClearBlack technology for improved outdoor visibility.The C7 is expected to be priced at about € 335 (Rs 20,000).
Nokia C6-01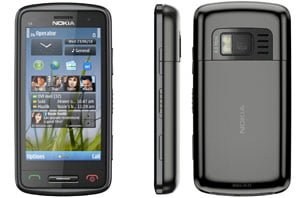 As a smartphone family, the Nokia N8, Nokia E7, Nokia C7, Nokia C6-01 share several similarities. The C6-01 is also a heavily social networking oriented mobile phone and follows on much from the already available C6. The C6-01 comes with all the social networking features support for multiple homescreens, visual multitasking, gesture-based interactions and a noticeable reduction in prompts- all while presenting a familiarity that means millions of people can pick up one of Nokia's new smartphones and instantly know how to use it and it. With the new improved Ovi services one can gain access to a wealth of apps and games to enjoy on the C6-01 to keep you entertained while you are not tweeting or updating your status. The C6-01 also comes with a 3.2-inch AMOLED capacitive touchscreen. The device is expected to be available for € 260 (Rs 15,500)