Indian Telecom Network becomes the second largest in the world with total subscriber base of over 670 million at the end of July 2010.
With this overall teledensity in the country has reached over 58% mark. In last five years not only Urban Tele-density has risen from 26% to more than 125%, but Rural Tele-density has also increased phenomenally from 1.73% to over 27%.
Inaugurating the Curtain Raiser Ceremony of 'India Telecom 2010' here today, Thiru A. Raja Union Minister of Communications and Information Technology, said it has been made possible by synergy of conducive Government policies and the entrepreneurship zeal of Telecom industry.
He underlined the policy initiatives that led to the present state of reduced tariffs and monumental growth in teledensity enabling common man to afford it and get connected with rest of the world.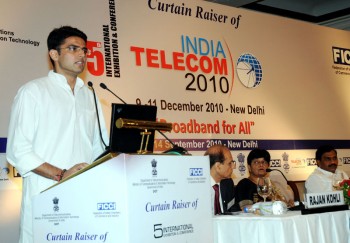 Speaking on the occasion, Sachin Pilot, Union Minister of State for Communications and Information Technology said that leaving behind all goals set and met, today's need is to focus on what has to be achieved from common persons perspective. Broadband is the sunshine area. Besides accessibility and connectivity, rural subscribers need easy availability of quality services at affordable cost. Services like e-health care, e-education , e-governance, etc. on platform of Broadband can turn out to be effective tool of Government intervention to ensure rural empowerment and raising quality of rural life avoiding incremental costs involved in traditional mode of service delivery.
Within a short span since its inception in December 2006, "India Telecom" has become a very important event and has been providing a perfect platform for service providers, manufacturers, content providers and others. Last year's "India Telecom 2009" had witnessed a tremendous response from national and foreign participants and was well represented by 250 exhibitors from 28 countries across the globe including significant presentation covering important topics by 30 eminent national and 22 international speakers. This year, "India Telecom 2010" with the theme "Broadband for All" will be held from 9th to 11th December 2010 at Pragati Maidan, New Delhi.
The Curtain raiser ceremony of "INDIA TELECOM 2010", the 5th famous international Telecom exhibition was jointly organized by Department of Telecom and FICCI.