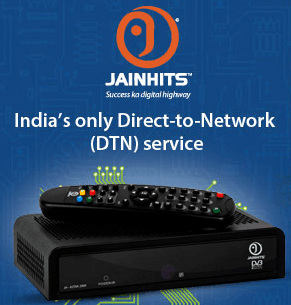 JAINHITS, India's first and only HITS based Direct to Network (DTN) service has launched its new packages titled 'Viewers Choice Packs'. These packs are in sync with the 'a-la-carte' mood of country's Cable TV digitization mandate, where viewer gets to pay only the chosen content.
As per the digitization mandate, the viewers can select Free to Air programs at 'a-la-carte' rates totaling up to Rs 100 per month and above if they are prepared to pay for more. Similarly they can select Pay TV Content too from the rate card which also has bouquets of popular combinations. Customer has to mention these combinations in their application form to start benefitting from the provision.
"JAINHITS 'Viewers Choice Packs' are bound to enhance LCOs subscriber base as the spirit behind these packs is to ensure that every JAINHITS viewer is able to view only those channels which they want to watch and at a pre-determined cost selected from a rate card. Viewers can select from the currently available 254 channels on JAINHITS platform," the company said.
During the recently held first task force meeting for phase III and IV at New Delhi, then I&B Minster Prakash Javadekar had shared that the Cable TV Digitization process is aimed at providing the consumer with greater choices and affordable & qualitative options.
The objective behind 'Viewers Choice Packs' is to make JAINHITS viewer happy which in turn will help enhance LCOs business. Under this scheme, consumers get MPEG-4 quality, BIS certified STBs for as low as Rs. 1500.
"Our offerings are a testimony to our belief in mutual growth along with our partners and wish to boost our partner ecosystem with robust growth opportunity. All our past schemes and offerings have been well received and had instilled enthusiasm in the LCO community. Likewise, for this newly announced "Viewers Choice Pack" also we are getting extremely enthusiastic response. We will continue to facilitate our partners with such opportunities in the days to come," said Devinder Singh, Head- Regulatory & Corporate Affairs, Noida Software Technology Park.
"Basic Tier, Pay Tier, other costs such as STB provisioning Value Added Services and Taxes levied is the attraction. CD quality picture and sound clarity are the key highlights. At present it is a one way communication service, which has potential to upgrade to bi-directional communication to provide broadband on computer and/or TV to diminish the digital divide and fulfill PM's dream of digital India," said Col. Vinod Khare, Advisor Broadcast, TV and Regulatory, Principal Consultant.