With so many smartphones available in the market, it is wise to compare a few best handsets in order to deduce the correct device for yourself.
Gionee has just launched the Elife E7 in India for Rs 26,999 and the device will be going up against the Nexus 5 which is on sale for Rs 28,999. Both of them have a similar spec sheet with the former having a bigger screen and a slight price advantage. On the other hand, the Nexus 5 brings the trust of Google which every company finds hard to match.
Here is a comparative look at the Gionee Elife E7 and Google LG Nexus 5 smartphones:
Built: The dimensions of the Elife E7 are 150.60 x 75.00 x 9.50 mm and it weighs about 150 grams. On the other hand, the dimensions of Nexus 5 are 137.84 x 69.17 x 8.59 mm and it weighs nearly 130 grams. The Nexus 5 appears to have a better build quality but the E7 by no means feels the cheaper out of the two. It just comes a close second.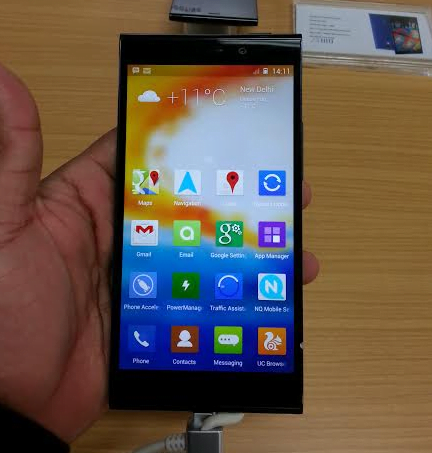 Display: Elife E7 sports a capacitive 5.5 inch touch display while the Nexus 5 features a capacitive 4.95 inch touch display. Both the devices offer a resolution of 1080 x 1920 pixels. The Nexus 5 due to a smaller screen features a higher pixel density of 441ppi whereas the Elife E7 due to a bigger screen features a pixel density of 401ppi but by no means you can find a difference in real world performance.
Processor: Both the devices have been powered by Qualcomm Snapdragon 800 quad core processor. While the Elife E7's processor if of 2.2 GHz, Nexus comes with a processor clocked at 2.26 GHz. Expect a similar level of performance from both of them.
Operating System: Elife E7 functions on Android 4.2 Jelly Bean platform while Nexus 5 functions on Android 4.4 version and this where the buck stops. The Nexus 5 is guaranteed at least 2 more Android updates whereas it will require a Herculean effort on the part of Gionee to update it to Android 4.4, let alone anything beyond that.
Camera: Elife E7 features a 16 mega pixels rear camera with LED flash and 8 mega pixel front facing camera. On the other hand, Nexus 5 carries a rear camera of 8 mega pixels with LED flash and a 1.3 mega pixels front facing shooter. This one goes to the Gionee offering.
Memory: Both the smartphones offer 2GB RAM and 16GB internal memory with no expandability option. However, both of them also feature a 32GB version with the E7 offering a RAM of 3GB with the 32GB variant.
Connectivity Features: Both the device offer connectivity features, such as Wi-Fi, Wi-Fi direct, Bluetooth, GPS, NFC, micro USB and 4G.
Other Features: Both the handsets feature a 3.5 mm audio jack, proximity sensor, ambient light sensor and an accelerometer. Elife E7 also offers FM Radio while Nexus 5 also carries Compass and Gyroscope.
Battery: Elife E7 works on a non removable battery of 2500 mAh where as the Nexus 5 runs on a non removable battery of 2300 mAh.
Our Take: It is quite tough to determine either one as a complete winner. Though Gionee presents a better camera and a bigger screen, the Nexus 5 comes ahead of it in every other aspect. And when the price difference between the two is not much, the Nexus 5 emerges out as a clear winner.