A Bengaluru-based wireless solutions company QuadGen Networks Pvt. Ltd has raised an undisclosed amount, as part of its Series A round of financing, says a release from the company. While IndusAge Partners led this round of financing, Trinity Mobility too participated in the financing. The investment will be primarily used for scaling its networks and increasing the 2K hotspots in the country to 20K.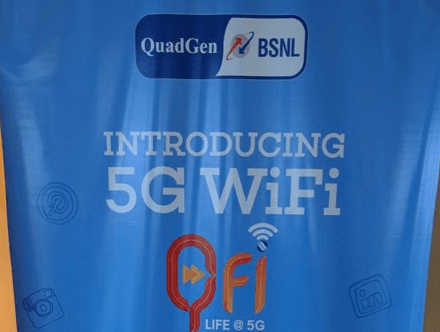 "Broadband Connectivity is a critical ingredient for the realization of the Digital India Vision. QuadGen is committed to expanding its network and enabling high speed connectivity through its carrier grade Wi-Fi offering to Government Offices, Courts, Educational institutions, Banks, Rural and Public spaces and thus pave the way for next generation Digital infrastructure. We are excited to bring industry leaders to support us in this ambitious endeavor," commented Mr. C. S. Rao, Chairman and Co-Founder of QuadGen.
QuadGen builds and operates Wi-Fi networks in India. BSNL had selected QuadGen to cover nine states across Andhra Pradesh, Karnataka, Kerala, Telangana, Tamilnadu, Maharashtra, Gujarat, Madhya Pradesh and Chattisgarh to build and maintain telco grade WiFi Network.
In the release, QuadGen has expressed its plan to bring new wireless technologies such as 5G Wi-Fi to both rural and urban environments in India. It will also assist in maximizing the utilization of BSNL's extensive fiber based back haul infrastructure.
"Ubiquitous mobile broadband access is essential to boost India's digital economy aspirations. QuadGen along with its industry partners bring a world class-capability to achieve this. In conjunction with this investment, eminent scientist and prestigious Marconi Prize & Graham Bell Award winner, Emeritus Professor of Stanford University, Prof. Arogyaswami Paulraj will join the company's board as an Independent Director," Sriram Viswanathan, Founder and Managing Partner of IndusAge Partners said.
"It is a great honor to have an eminent and highly respected global visionary such as Prof. Paulraj associated with us. We are delighted to have his guidance as we build QuadGen into a leader in wireless technology solutions and services", said Mallik Vagvala, CEO of QuadGen USA.
"Increasing broadband access to all of India's vast population is vital to our economic growth. Wi-Fi is a very attractive broadband technology for India from low its cost per bit delivered, inexpensive smart phone platform and high speed connections. QuadGen plans for rolling out Wi-Fi access using BSNL's fiber backbone shows great promise for delivering affordable broadband to India," said Prof. Arogyaswami Paulraj.