BSNL has introduced online number booking and instant activation across all its circles. This service is first of its kind by any service provider in India as it provides the customer an option to select a number of their choice at any place and time.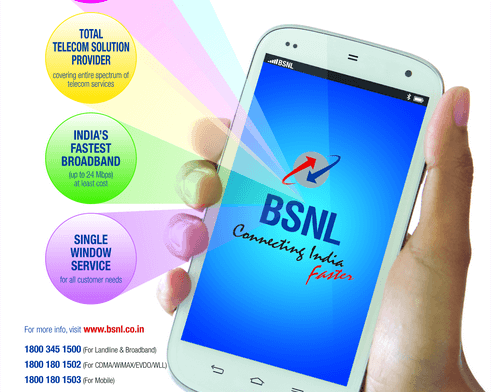 Prior to this, the customer had to visit a BSNL Exchange Office to apply for a new BSNL connection, which took a lot of time. Also, they couldn't choose a desired number from a BSNL centres. However, with the new Express Activation feature, the whole process is about get quite easy.
BSNL Mobile Number Express Activation process is as follows:
Book a choice of your number online through BSNL's CYMN portal.
1. A secret code is generated and sent to the your mobile number.
2. Fill up the application online with accurate details as per the POI & POA with your contact number, e-mail ID, and submit it.
3. A list of available CSCs is sent to your e-mail ID that you provided.
4. Visit any CSC of his choice at any time during the working hours within 72-96 hours, and then visit the "Express Counter" to mention your secret code.
5. The CSR retrieves your BSNL Mobile Online application, checks the application form for its correctness, and verifies your Proof of Identity/Proof of Address. 6. If everything is correct, a print-out of the application is taken and the your signature and photo are obtained.
7. BSNL tele-verification is done immediately and your connection gets activated instantaneously with any available BSNL prepaid/postpaid plans.
Also read: Cabinet clears hiving off 65,000 mobile towers of BSNL into subsidiary company, spells good news for the PSU and private operators.
This online application feature gives allows you to fill up the form, easily book a choice of your number as per your schedule, take the necessary documents, and visit the nearest BSNL office within mentioned time. An even better thing is, your number gets activated on the same day. This is quite easy when compared to the previous process, isn't it?
Let us know your views on this Easy Activation service launched by BSNL.
Note: This service is currently valid in Chennai.