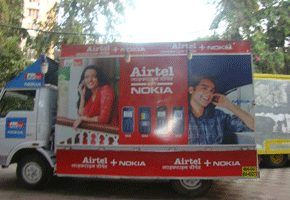 It seems like competition is making existing operators to take innovative steps to attract rural subscribers as part of this strategy Airtel has introduced series of Airtel Nokia Vans to reach villagers in remotest parts of Maharashtra.
Manu Talwar CEO Mobility Bharti Airtel cited apart from providing innovative products and services, we also drive expansion of category across remote locations to enable more and more customers going mobile with exclusive offers. The Airtel Nokia Van is creating awareness to villagers regarding how to use mobile, how to use free sms schemes, sms recharge using Radio on handset and clicking snaps on mobile.
These vans are also providing a host of handset bundle offers giving a free lifetime connection with Nokia mobile phones and subscribers have a choice to opt handsets ranging from Nokia 1202, Nokia 2606, Nokia 1209, and Nokia 1662(FM), Nokia 2680, Nokia 3120, and Nokia 7310 to Nokia 6300.
The Airtel Nokia Vans would cover 11 districts in Maharashtra over the next 2 months. The districts include Ahmednagar, Pune, Thane, Kolhapur, Solapur, Satara, Nanded, Amravati, Thane-Nashik, Dhule and Aurangabad.