Sony has just launched the Xperia Z1 in India and it will be up against the likes of the Galaxy S4. The two flagship smartphones will be battling it out for the attention of the consumers in the high end smartphone arena.
Let us have a comparative look at the two smartphones: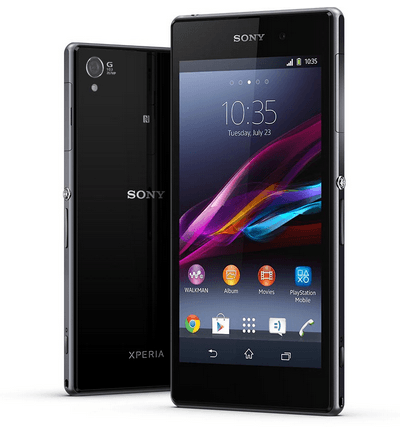 Built: The dimensions of Xperia Z1 are 5.69 x 2.91 x 0.33 inches and it weighs 170 grams. Where as, the dimensions of Galaxy S4 is 5.38 x 2.75 x 0.31 inches and it weighs 130 grams. Both are 5 inchers but S4 is a more compact one and on the flipside, the Z1 has a way better build quality.
Display: Both the smartphone feature 5 inch capacitive touch display and offer a resolution of 1080 x 1920 pixels and 441 ppi pixel density. So we'll call it a tie in this arena.
Processor: The Sony Xperia Z1 has been equipped with a Qualcomm Snapdragon 800 MSM8974 quad core processor clocked at 2200 MHz. It comes with Adreno 330 GPU. On the other hand, the Samsung Galaxy S4 comes with an Exynos Octa core processor clocked at 1900 MHz. It carries an Adreno 320 GPU. So the Z1 wins in this regard.
Operating System: Both Sony Xperia Z1 and Samsung Galaxy S4 function on Android 4.2.2 Jelly Bean version but Samsung has had a better record in giving steadier updates and Sony is slowly starting to catch up. So it's pretty even here as well.
Memory: Both the smartphone carry a RAM of 2048 MB, internal storage of 16 GB and expandable memory of up to 64 GB with the help of a micro SD card. That's neck to neck so this calls for another tie.
Camera: The Xperia Z1 has been loaded with a powerful primary camera of 20.7 MP with LED Flash and a front facing camera of 2 MP. On the other hand, Samsung Galaxy S4 features a primary camera of 13 MP with LED Flash and a secondary camera of 2 MP. Both the smartphones offer amazing camera features, such as BSI, Face detection, HDR mode and Geo Tagging. The Xperia Z1 has a way better camera and the S4 stands pretty much second to the Sony offering.
Other Features: Both the devices come with proximity and light sensors. Xperia Z1 is available in black, white and purple color variants while Galaxy S4 is available in black and white color variants.
Battery: Xperia Z1 works on a battery of 3000 mAh and Galaxy S4 runs on a battery of 2600 mAh. So the Z1 surges ahead in this department as well.
Price: The S4 is available for around Rs 35,000 and the Z1 for around Rs 42,000. The S4 is priced less but is a relatively older device. The Xperia Z1 is a newer device and offers an accessory bundle that justifies the price difference.
Our Take: We'll keep it short and simple today. Go in for Xperia Z1 without any second thoughts.