Samsung has already established itself as one of the best brands for Smartphones. Micromax, too, is gaining popularity at a steady rate. One of the latest models of Micromax, the Micromax Doodle 2 has just been launched to go head on with the Samsung Galaxy Mega 5.8 and compare both the devices for you.
Let us have a look at the comparison of these two Smartphones.
Design: In terms of design, Galaxy Mega 5.8 is much like Galaxy S III and Galaxy S4. It has a chrome frame which provides it a stylish look. This phone is available in Black and White colors. On the other hand, Micromax Doodle appears like any other Micromax Smartphone but is a little less glossy. Both the phones have a 3.5mm audio jack and a Micro USB port. They are dual SIM Smartphones.
Screen: Samsung Galaxy Mega 5.8 offer a 5.8 inch TFT screen as compared to 5.7 inch touch display of Micromax Doodle 2. Galaxy Mega 5.8 offers qHD resolution with 190 ppi pixel density. This Smartphone provides a decent contrast and vibrant colors. It has an LCD display. Where as, Micromax Doodle 2 offers IPS display with 1280 x 720 pixels resolution which makes it good enough for multimedia.
Processor and RAM: The Samsung Galaxy Mega 5.8 comes with a 1.4 Giga Hertz dual core processor that offers decent speed. It has a RAM of 1.5 GB. For processing the graphics, Galaxy Mega 5.8 has been equipped with a Broadcom VideoCore IVchip. This Smartphone's performance is commendable. As far as processor is concerned, Micromax Doodle 2 has an edge as it is equipped with a MediaTek MT6589 chipset quad core processor. It comes with a RAM of 1 GB.
Memory: The Galaxy Mega 5.8 comes with an internal memory of 8 GB from which user memory is of 5.39 GB. It also offers expandability feature. With a Micro SD card you can expand the memory up to 64 GB. Micromax Doodle 2 offers an internal memory of 16 GB from which user memory is of 12 GB.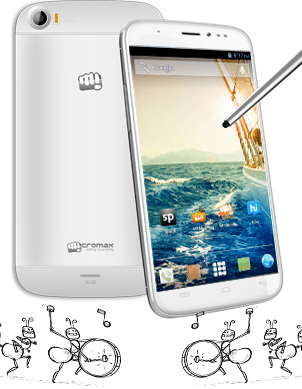 Camera: Galaxy Mega 5.8 comes with a rear camera of 8 megapixels. It takes good quality photographs when there is good light. However, the quality may drop with the drop in levels of light. This Smartphone provides good restitution and color balance. Here, also, Doodle 2 scores as it has a rear camera of 12 megapixels with LED flash and auto focus features. Its camera is also capable of recoding HD videos. The secondary camera of Mega 5.8 is of 1.9 MP where as that of Micromax Doodle 2 is 5 MP.
Operating System: Galaxy Mega 5.8 works on Android 4.2.2 Jelly Bean which is the latest version of this operating system. It comes with a TouchWiz User Interface which provides glossy, big and cartoon like menus and icons as well as custom apps. It also provides users with an option to enable lock screen shortcuts with which they can unlock straight to the respective apps. You can also remove or add home screens with the help of pinch-in gesture. The Micromax Doodle 2 also works on Android 4.2.2 Jelly Bean. The user interface of this Smartphone is much like that of Canvas 4.
Battery: Galaxy Mega 5.8 runs on a 2600 mAh battery. However, if you are into gaming and web browsing, then the battery may not last for a complete day. The Micromax Doodle 2 also works on a 2600 m Ah battery. However, it provides the talk time of 8 hours only on 2G network. The Galaxy Mega 5.8 is worth Rs. 21,635 and Doodle 2 is available for Rs. 19,999.
Our take: They both are priced similarly and the Micromax offering looks good on paper but as far as my opinion goes, I'd go in for the Galaxy Mega 5.8 for the Value for Money it comes across as. Micromax has become a bit ambitious with the pricing of the smartphone and that might just be the Achilles heel in its sales.