Country's only pure-play CDMA operator MTS India, the telecom brand of Sistema Shyam Teleservices has taken plenty of steps to keep afloat in the competitive data market. The data market which is the company's main focus has become very competitive for MTS as the 3G operators now offer better speed, more coverage (thanks to the investments they put) and in some cases cheaper tariffs. However this time MTS brings the most exciting data plans for the high ARPU dongle users to beat every single operator in the town.
300% More Data
MTS India have started offering more data on some popular data plans. MTS is now offering double data on popular MBlazer999UL plan. Earlier this plan offers 10GB + UL at 1X data, but now prepaid customers will get 20GB + 1X UL data. All MBlaze postpaid users will get 40GB + 1X UL data. The postpaid plan will offer per GB data at industry's cheapest at little more than Rs 25/GB.
Details of MTS Super Unlimited Plans:
At the same time MTS also launched Smart Packs for Rev B unlimited users, where you can boost you speed once you crossed the fair usage. There are only two Smart Packs - 1GB costs Rs 50 and 3GB costs Rs 125.
According to Leonid Musatov, Chief Marketing & Sales Officer – MTS India, "I am delighted to present the most aggressive data plans in the country. MTS' SUPER UNLIMITED data plans have been specially designed to provide at least 300% more value than plans offered by competition. The SUPER UNLIMITED data plans are a follow up to the launch of our 3GPLUS telecom network and the recent success of MTS' 'Born For The Internet' campaign".
MTS Blaze 4.0 and More Smartphones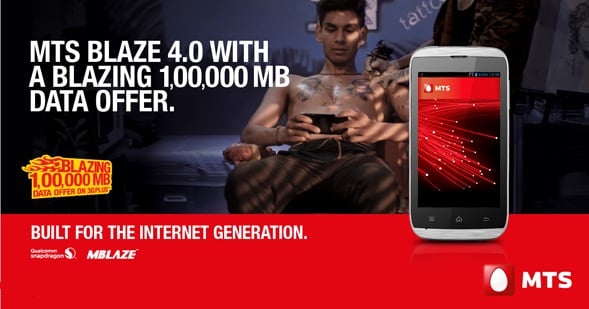 MTS has also introduced a new smartphone in the market - Blaze 4.0. This is actually ZTE N799D and offers dual SIM support - EVDO + GSM in the line of existing range of MTS smartphones. 
Specification of Blaze 4.0: 1.2GHz Snapdragon S4 dual core processor, Jelly Bean 4.1.2, 4 inch display, 3.2MP front camera, EVDO+GSM dual sim support, 512 MB RAM, 4GB internal storage, upto 32 GB microSD card support, GPS, WiFi, USB 2.0, Bluetooth v3.0, Gravity Sensor, 1400 mAh battery. MTS is selling it online for Rs 6299 (exclusive of FRC and monthly STVs)
MTS will also launch Blaze 4.5 and Blaze 5.0 with 4.5" and 5.0" display size.
The best of the Blaze 4.0 is the data offering from MTS. It comes with 1,00,000MB high speed EvDO data for 12 months. This is another 'one lakh' offer from the company. However to enjoy this offer you have to recharge a FRC and monthly recharge or bi-monthly recharge is mandatory. The pricing is litte different in circles.
Details of Blazing One Lakh MB Data:
With first recharge of Rs 198/-, 100,000 MB will be credited in customer account valid for 30 days.
Unused balance can be carried forward for 1 year from date of activation with a recharge before the expiry of validity of unused balance.
For Circle specific monthly/bi-monthly recharge value please check out the table below:
Offer valid for new customers on MTS SIM bundled with MTS Blaze 4.0. In case the SIM is used with any other handset, MTS reserves right to withdraw the offer and all associated benefits.
Customer speed will throttle down to 64 Kbps if usage crossed 10 GB data per month.
Earlier MTS has launched its security solution products with its Rev B supported MBlaze Ultra WiFi Routers & D-Link security IP cameras.