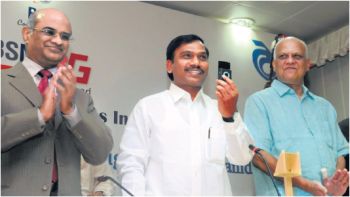 BSNL on Sunday launched its third generation mobile services in the country from Chennai offering lots of goodies like live TV high speed mobile broadband movie downloads 3G services comes with  three monthly subscription options of Rs 350, Rs 650 and Rs 1,350 for prepaid subscribers.
Later this month BSNL will also roll out 3G service in Lucknow,Agra,Ambala,Dehradun,Jammu,Shimla,Jaipur,Jalandhar,Patna,Durgapur,Haldia,Ranchi and Bhubaneshwar.
During the launch BSNL also rolled out India Golden Fifty scheme offering STD and local calls and SMS at 50 paisa per minute while BSNL to BSNL calls can be made at 20 and 30 paisa per minute. India Golden Fifty Plan would be available from March 1 with a monthly rental of Rs375.