Opera Software ASA, maker of two most popular mobile browsers - Opera Mini and Opera Mobile has released beta version of its new Opera Browser on Android's Play Store.
Well it's the third Android app from Opera, and most importantly it is the first application from Opera which is powered by WebKit browsing engine, instead of Opera's properitory Presto engine. Around 3 weeks back there was some updates that Opera may ditch its Presto engine to favor WebKit engine on Android platform; and it may be named as Opera Ice.
It seems WebKit flavor did a great job on Opera - with more than 50% users gave 5/5 rating on Play Store.
The download via Play store is as usual straight forward - 12 MB file is downloaded and installed. Opera browser beta has three unique features which are shown off at its first run - Off-Road mode (similar to Opera Turbo data compression technology), Speed Dial and Discover. Discover is something like your live feeds - if you use Flipboard, you will get the similar taste.
Then I am greeted with usual UI - speed dial, history and discover. Tab management is easy, settings can be reached easily by touching 'O' or setting key. You can also search on the page. Under the hood there are plenty of settings to customerize your Opera experience.
Discover is part is very nicely built - offers country and language wise options. There are two language options for India - Hindi and English. Discover shows top stories from many categories.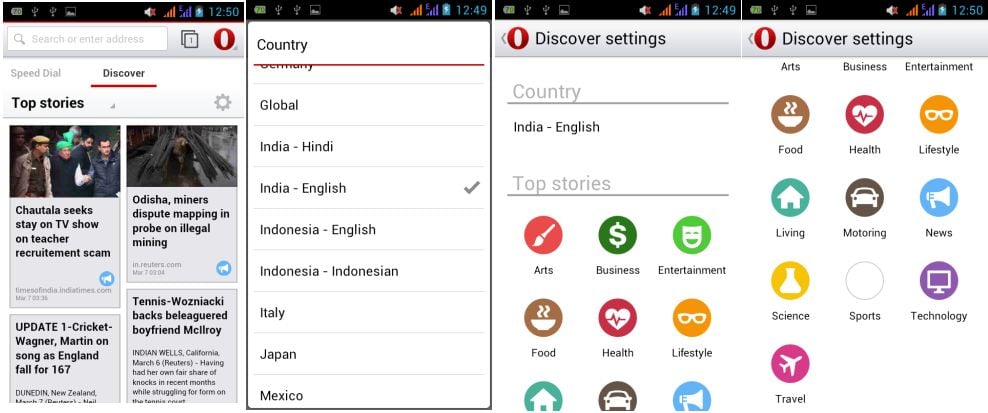 There might be some bugs as it is the first beta release, but till now there is no hang or unexpected shut down show by Opera browser beta on my hands. It is smooth, easy to use and most importantly blazing fast - with Off-Road mode on I saved 87% data on 2G network.