Videocon mobiles the mobile handset venture of Videocon Group today unveiled a wide range of trendy, New Age GSM Mobile Phones> The Mobile Handset giant launched 9 new Mobile Phone with some rocking features like Triple SIM CDMA Handsets, QWERTY keypad DUAL SIM with Optical Track pad, Attractive Touch screen devices and Dual SIM Multimedia, Camera and Music phones with the price range starts from Rs.1300.
Videocon's Triple SIM handset `Videocon VC1425' positioned as Grab the Power of three. This combines the both GSM and CDMA technologies in a Mobile Phone with 2 SIMs and 1 RUIM (CDMA SIM). In the GSM Mobile phones, Videocon has enhanced its presence in sectors like 4 models in Music and Camera Category; 2 new handset in Multimedia category  and  one new power packed mobile phone in Touch category.
Videocon works with Original Design Manufacturers and enables the global suppliers to offer customized phones in terms of different and easy to use user interface, colours, applications, content for entertainment etc. The range of hassle free and reliable mobile Phones are feature-rich, including basic colour models, phones with FM radio, single/dual SIM, MP3 music, camera, multimedia and the latest touch, QWERTY and touch window's phones.
Mr. Anil Khera, CEO, Videocon Mobile said, "With a wide range of products and accessories, coupled with an extensive dealer and distributor network and a reputed service partner with a nation-wide presence, our aim is to emerge as a leading player in the Indian mobile phone market soon."
Mr. Rahul Goel, COO, Videocon Mobile, said, "We are offering a wide variety at Value for Money proposition. There is a huge potential in the market and a large base of consumer untouched through the country. Other than urban-semi urban, the rural market is expanding rapidly. Our objective is to be a one stop shop for the customer, and cater to each and every class and age with a price range of Rs.1, 300 to 19,000 on a premium side."
Videocon has already established a pan-Indian presence for its new range of cell-phones, and is poised to emerge as the largest Indian operator in the segment. The company is also aggressively spreading across the country by appointing an extensive network of dealers and distributors, with an emphasis on reach and penetration.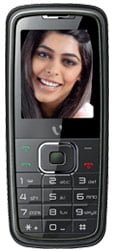 On the music category front various models comprise: V204, an entry Colour FM phone that allows to record and play, and V1300, which adds a handy Ultra Violet Currency Checker.
Videocon's latest Camera phone launches include the V1402 with which one can shoot, Groove. Flaunt! This is the entry camera phone in the portfolio. V1420 has a 3.5mm jack to connect to external speakers, and doubles up as Your Media and total music. Rolled into One!
Multimedia gets the 3.2MP evolution with the introduction of the dapper V1705. V1602 adds meat to the mid range 2MP line-up. The V1602 with the existing V1604 would seek to turn up the action in the 2MP multimedia market for Videocon.
In the touch category, Videocon has redefined the fourth screen by allowing the user to watch movies on the handset which plays the enhanced RMVB (Real Media Variable Bitrate) format enabling you to watch movies with just a touch.
With Social networking taking the centre stage, Videocon V1675 addresses the s-net platform with the brilliant V1675 which has all widget support to s-net applications. The QWERTY interface along with the optical track pad makes for a neat browsing and messaging handheld.
With the launch of new phones Videocon is also unleashing the new TV Ad campaign during the IPL. Incidentally Videocon is the On- Air sponsor for IPL on SET Max and they are going to use this exciting opportunity in media to kick-start the new campaign.