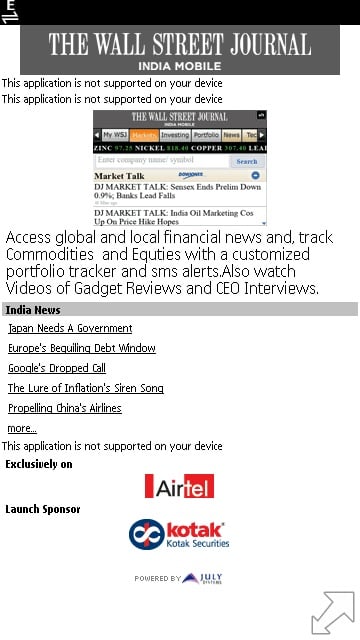 Dow Jones today announced the launch of  The Wall Street Journal India Mobile application in association with Bharti Airtel.The application provides the latest international and Indian financial and business news from The Wall Street Journal and Dow Jones Newswires.

The Wall Street Journal India Mobile application is currently compatible with a large number of models of Blackberry and Nokia Smartphones and will be extended to other handsets soon. Airtel mobile customers can download The Wall Street Journal India Mobile application by texting 'WSJ' to 54321.
The Wall Street Journal India Mobile can be downloaded free-of-charge by Airtel pre-paid and post-paid mobile users.
Customers will have to pay a monthly subscription fee of Rs. 99 only if they choose to access premium financial market news and data, the personalisation functionality and the portfolio tracker, which helps monitor stock portfolios as well as mutual funds and commodities investments.
Key features of The WSJ India Mobile application include:
• Global and local financial market news and information;
• Business, politics, economics, finance and management news from India and around the world;
• Exhaustive search and tracking capabilities for over 8,000 companies, mutual funds and all IPOs over the last three years with customized chart views and premium market commentary;
• Leading lifestyle, travel and leisure content including best of breed personal technology coverage, executive jobs and travel deals;
• Engaging videos and podcasts on global news, technology trends and interviews with prominent CEOs;
• Complete user-defined page personalization option.
Raghunath Mandava, Chief Marketing Officer – Mobile Services, Bharti Airtel said: "It has been Airtel's endeavour to constantly innovate and lead the mobile content revolution in the country by delivering best in class products and services to customers and adding value to their lives on the go and wherever they go. The Wall Street Journal India Mobile application is our latest initiative that will empower our customers to make smarter decisions by accessing news and information from one of the world's most trusted and premier providers of financial information."