After selling its spectrum in six circles to Bharti Airtel, Videocon has now started sending SMS to its subscribers, advising them to switch to other network before May 11, 2016. The operator is now left with spectrum only in the Punjab circle, however, this will soon expire and is being put for sale in the next auction by DoT.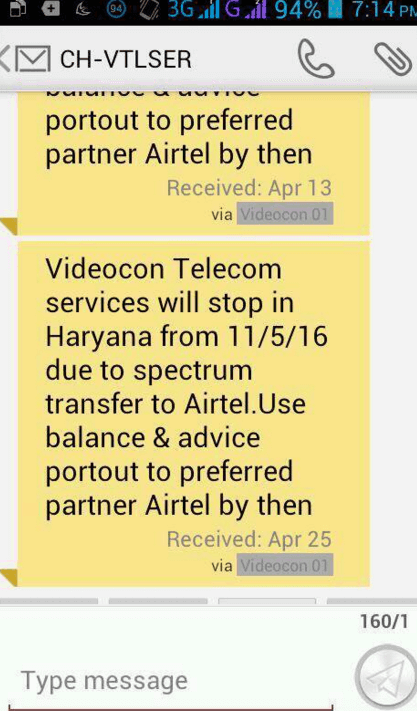 As per the SMS send to subscribers, Videocon Telecom services will stop in Haryana from 11-05-2016 due to spectrum transfer to Airtel. It also advises customers to use up the current balance and port to its preferred partner Airtel.
Bharti Airtel had acquire Videocon Telecom's spectrum in six circles–Bihar, Haryana, Madhya Pradesh, UP (East), UP (West) and Gujarat– for Rs 4,428 crore, through a bandwidth trading deal. Airtel had outbid Idea in order to acquire rights to use 2 x 5 MHz spectrum in the 1800 MHz Band, which is valid up to December 18, 2032.
Screenshot shared by Himanshu Nagpal