LG's latest flagship Android smartphone, the G3, has finally set foot in the Indian market. The 16GB variant is priced at Rs 47,990 while the 32GB variant costs Rs 50,990. The device stands up against its counterparts such as Samsung Galaxy S5, HTC One M8 and Sony Xperia Z2. It's confusing though that it is already available to buy in some physical stores as well as online stores in India from the past few days. This puts in a question about the timing of the launch.
The LG G3 comes with a 5.5 AH-IPS+ display with Quad HD resolution (2560×1440 pixels), resulting into a pixel density of 538PPI which is the highest in any other smartphone so far. The device comes with power saving features such as adaptive control on brightness, higher frame rate and clocking. Running on Android 4.4.2 KitKat, the G3 is powered by a high performance Snapdragon 801 SoC, which is clocked at 2.5 GHz. Interestingly, LG has introduced two configurations for the RAM and internal memory. The 16GB version has 2GB of RAM, while the 32GB version has a full 3GB. According to LG, both versions perform equally well with the new software. Both versions have a microSD card slot, which is expandable up to 128 GB in size.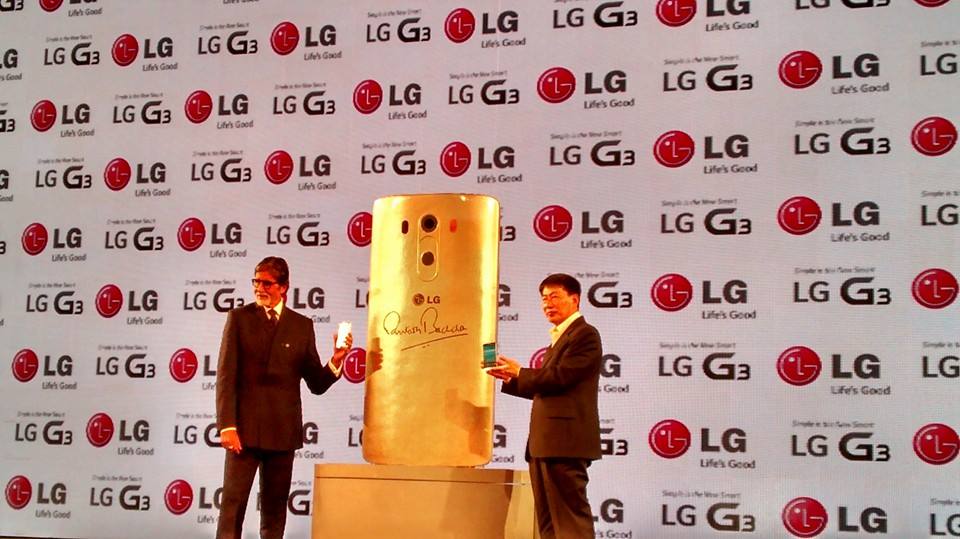 The LG G3 takes inspiration from its predecessor G2 in the design and its power and volume controls buttons are placed at back. Although it is not the thinnest smartphone (8.9mm), the G3 appears very compact, thanks to the reduced bezels in width and weight of 149 g. It has a 13MP rear camera with OIS+ and laser autofocus mechanism which goes hand-in-hand with two-tone dual LED flash. LG affirms that the IR laser rangefinder assisted with phase detection auto focus, allows the camera to focus within 276ms, faster than the Galaxy S5, which is claimed to be faster than the human eye blinking speed. The camera also includes OIS+, a combination of optical and electronic image stabilisation.
Last but not the least, LG has renewed its UI, making it more flatter and less bright. LG has used its classic logo as the inspiration for the icons and animations. The company has also presented new features such as a height adjustable Smart Keyboard, which is speedy and allows better typing and is said to reduce input errors by up to 75 percent.
The LG G3 will be available in three colours - metallic silver, silk white and shine gold. Moreover LG is also giving Rs.15,000 launch offer with the G3. This includes a discount of Rs. 5,000 on the LG G-watch, when bought with the G3, a Quick Cover worth Rs.3,500 and a one-time screen replacement offer which costs Rs.6,500.