Motorola is slowly pushing out all the rumoured smartphones, and next in the line will be the dual camera smartphones, according to a new Twitter post. The company recently released the affordable Moto C lineup and the affordable Moto Z2 smartphone- the Moto Z2 Play. Both the smartphones announced for the Indian market as well. While the Moto C is already available for purchase via offline stores, the Moto Z2 Play will be up for sale from June 15.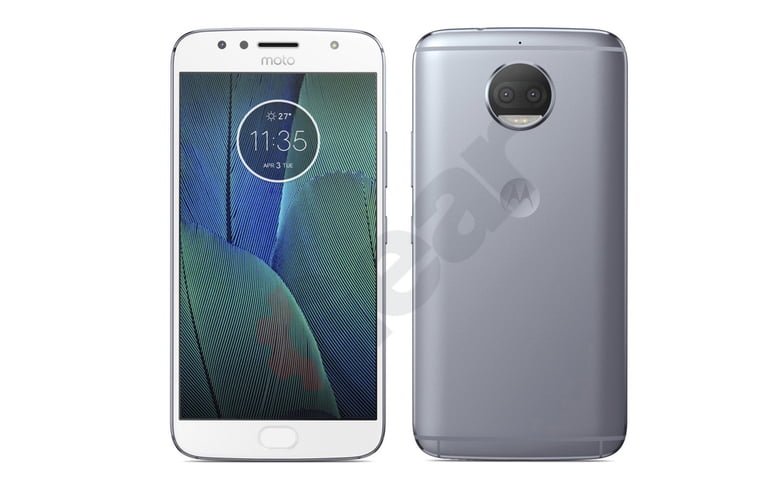 The other rumoured Motorola smartphones are the Moto G5s and G5s+, Moto X (2017) or Moto simply Moto X4, and the Moto Z2, Z2 Force. A Twitter user named Andri Yatim says that these phones will be launched in India this summer and they will be iPhone 7 Dual Camera envy- reads his Twitter post. This necessarily means that the Motorola dual camera setup will have a telephoto lens to capture zoomed images. However, there's no official confirmation as yet, so take this news with a pinch of salt.
Coming to the major aspect of the article, the Twitter user also suggested the pricing of three phones- Moto G5s+, Moto X4, and the Moto Z2 Force. The Moto G5s+ might cost Rs. 17,999, whereas the Moto X4 may get a price tag of Rs. 20,999. Lastly, the premium Moto Z2 Force might be priced at Rs. 38,999. All the three smartphones will be released in India shortly.
However, he did not give a hint about the Moto E4 series, which are likely to cost under Rs. 10,000. Let's assume the specifications of three smartphones based on the price tag. The Moto G5s+ will be an upgrade to the Moto G5 Plus released recently, and apart from the dual cameras and complete metal body, there may not be any changes including the hardware.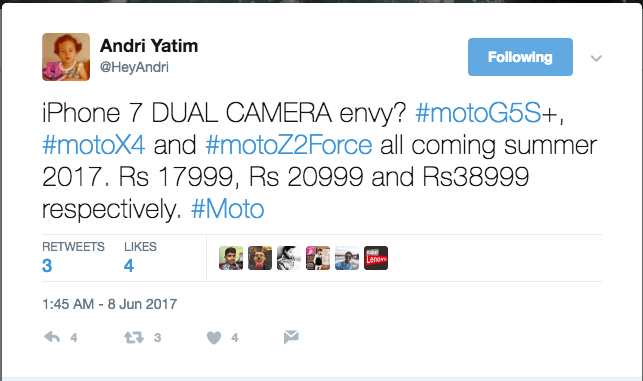 Everyone across the world has imagined that the Moto X series is done and dusted, but Motorola is bringing it back. The Moto X4 will not have flagship specifications, same as before, but will get the job gone. The Moto X4 is said to arrive with a Snapdragon 660 SoC and a 3D glass covered 5.5-inch Full HD display. The phone will also have a dual camera at the back, along with a 4GB of RAM module.
Lastly, there's the Moto Z2 Force. It's surprising that Motorola did not bring the Moto Z Force to India last year, but the company may launch the Z2 Force in India this year, which will have a shatterproof display and top-notch specifications- Snapdragon 835 SoC, 4GB of RAM, dual cameras at the back, and support for Moto Mods.
The release date for the phones is yet to be revealed by Motorola. We will keep you updated once after the official launch dates arrive.