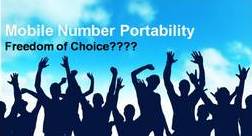 India has pushed the implementation of Mobile Number Portability (MNP) across selected telecom circles to March 31, 2010, a delay of three months from the earlier deadline of December 31, 2009.
MNP implementation has been further extended to March 31, 2010. Extending time line for MNP implementation, the Government has now decided to implement it in whole of the country in one go, by March 31, 2010, Press Information Bureau (PIB) said in a release today.
Earlier, in the first phase, the MNP was likely to be implemented by in metros and category 'A' telecom service areas, starting today.
The Mobile Number Portability (MNP) shall allow subscribers to retain their existing telephone number when they switch from one access service provider to another irrespective of mobile technology or from one technology to another of the same or any other access service provider within same service area.
"All these being the time consuming processes, the concerned service providers are being given time frame by DoT for various activities," it added.
The country was divided in two zones and licenses were issued to one MNP operator in each zone. The operators in the two zones of the country were to provide centralised database, query response and clearing house to enable correct routing and termination of calls by access-service providers and ILD operators post MNP implementation.