We have already covered earlier regarding the improvements of known issues in TATA Docomo DATA Network. Now to those users who are afraid to use their Data Services or wants to test their improved Data connectivity here is a chance from TATA Docomo to experience the new boosted Data Network for free.
TATA Docomo offers free 100MB data to test superb and seamless connectivity. All you just need to do is go to the page , enter your 10 digit prepaid number to claim it.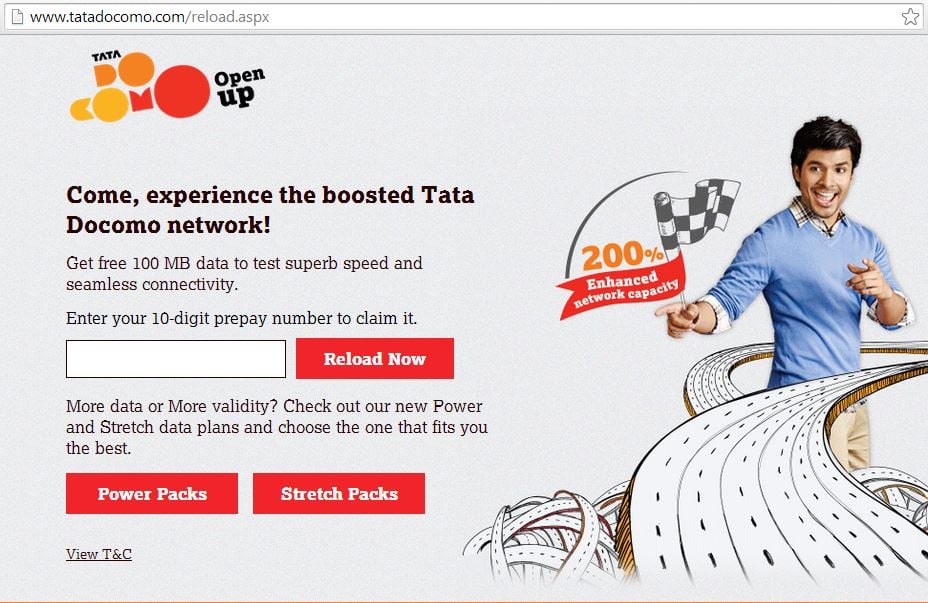 *Please read the T&C before availing this free benefit.
From few months TATA Docomo is trying hard to publicize it's improvements over Data connectivity using catchy words like - Boosted, Enhanced , Wider, Faster and Better Data Networks.
Now that you have got some opportunity to test its true quality with a little of 100MB data for free, Dear readers do let us know how you feel about the improvements across various circles via comments. Are the improvements worth the hype?
Mr. Rohit Tandon, MBU Head, Karnataka Circle has answered few frequently asked questions below for us about Tata Docomo Wifi Modem .
1. How it works?
Photon Max WiFi can be connected to any USB port -Laptops, Car Music Systems, DTH, Power Plug, Car Charger, Battery Bank to avail uninterrupted services. Photon Max Wi-Fi enables multi users and devices to be connected through a single touch point for Wi-Fi access thereby creating an internet Hot-Spot. 3G users can get speeds upto 21MBPS with 3G Photon WiFi where CDMA customers can accessPhoton Max Wi-Fi with speeds upto 6.2 MBPS and can connect upto 5 devices simultaneously.
2. How much does it cost?
The customers can upgrade their services to Wi-Fi by simply buying a new device at just Rs 1999. Moreover there is also a device cash back offer which makes the device free of cost in 13 months. The device comes with High Speed internet Wi-Fi with Free National Roaming and assurance of significant reduction on Internet Access spends.
3. Who is the manufacturer?
Manufactured by Huawei and powered by Qualcomm Gobi with Dual processor Technology ensuring faster and reliable connectivity for a superior multimedia experience.