Hell Shield Official seems to have launched their next attack on Reliance broadcast Network. Its two website – bigmagicinternational.com and 927bigfm.com currently stays inaccessible. The hacker group celebrates their hacking now on Twitter, with claims like 'User privacy is not joke'.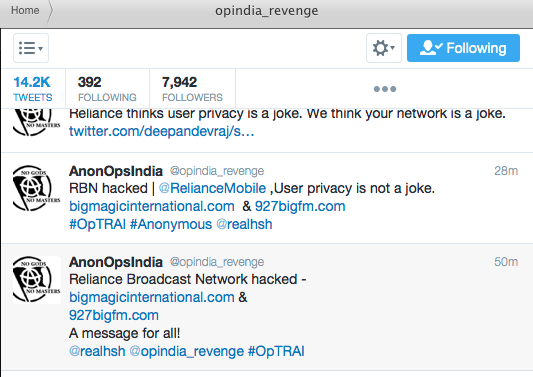 The group, with its Twitter accounts @RealHSH tweeted saying 'Reliance got Hacked' and 'We won't let You Rule over our freedom'. Another hacker group Anonymous India (@AnonOpsIndia) too upheld this claim and challenges Airtel India to safeguard them, which it says to be the next victim.
The intention behind these hackings are not known yet. However, they have released a message on the link saying Reliance wants to snoop people. The message appears as below:
"Even though Reliance differs in opinion than the rest of the providers, it has openly declared war on user privacy. They want the OTTs to setup servers in India so that government and corporate can "get the right" to snoop over the people. It is important to note that if in future, reliance launches its own OTT services like chat messengers and all, they should not be trusted at all.
We repeat. Do not trust them. Your data is going in wrong hands if you use them. They will never encrypt the data. Encryption is the only thing stopping the giant corporate houses & government from misusing your personal data that you share between your friends/family using various apps.
Everything you will post will be looked upon by the government and corporate houses. They say they want to stop unlawful activities.
They are using it as a shield wall to compromise your privacy so that they can use your data for their own personal benefits. We will take down everyone who violates privacy of citizens, just like we did to TRAI and will continue to attack them until the apologize for their mistake.
This is a warning to all telecom companies. You cannot control how we want to use the Internet. You never will."
Recently, Anonymous India hacked TRAI website after it released 10 lakhs email ID on its website. However, TRAI claimed it to be a technical glitch.