Redmond giant, Microsoft has been off the radar for a long time now. The company's smartphone business did not go as per the plan even after acquiring Finnish brand, Nokia. However, the company came back strongly with the Windows 10 OS, currently, has more than 25 percent market share and now, the company is testing a new feature called as 'Playable Ads' for Windows 10, which allows you to use an application for a brief time before downloading.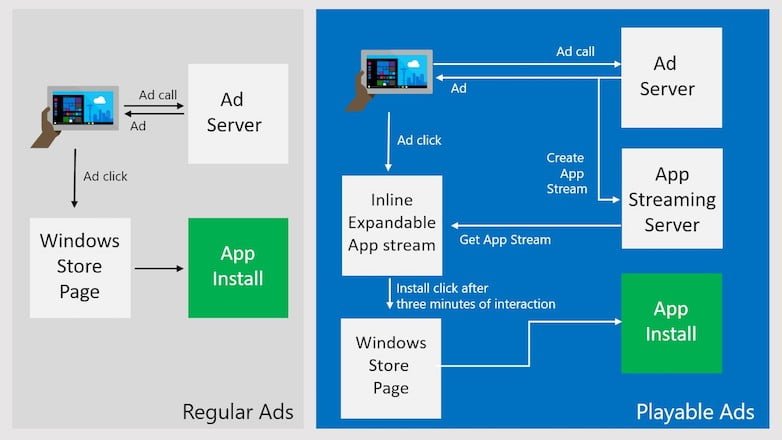 Sounds somewhat familiar, right? Yes, this is the same feature Google previously showcased at the Google I/O Keynote last year, and recently, some rumours were saying that the feature is already live for users in some countries. And the feature is called as 'Google Instant Apps', which essentially allows you to use an application in Google Play store for a little period of time before downloading.
The Microsoft Playable Ads allows a user to use an application from Windows Store for three minutes, further helping the user to download/purchase the complete application. That said, Microsoft is testing the feature internally, and the program is now live only for the app developers in Windows Dev Center.
This feature is demonstrated by Microsoft officially on their blog as follows: Playable Ads are a completely new way for end users to interact with ads and apps. With this capability, end users never leave the current app. The ad click will result in inline expandable app streaming: for three minutes, the user can interact with the app as if it's already installed on his/her device. This gives the user time to decide if he or she wants to install the app. At the end of the streaming session, users can click on a link to install the app if the app experience met expectations.
Having said that, developers can easily enable this feature for their application as Microsoft does the entire work in the background. All they need do is to log into their developer account and create a new ad promotion.