Its time to speak out the results of Aircel's Voice of the Customer initiative which i have started a few days back.The readers response is outstanding where more than 200 responses were received within just two days after the submission form went live on TT pages.
Coming to the results
Q1.What is your Connection Type with AIRCEL?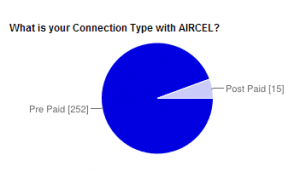 94% of users who gave their feedback use a Pre Paid connection while just 6% use Post Paid connection.
Q2.To Which Telecom Circle you Belong?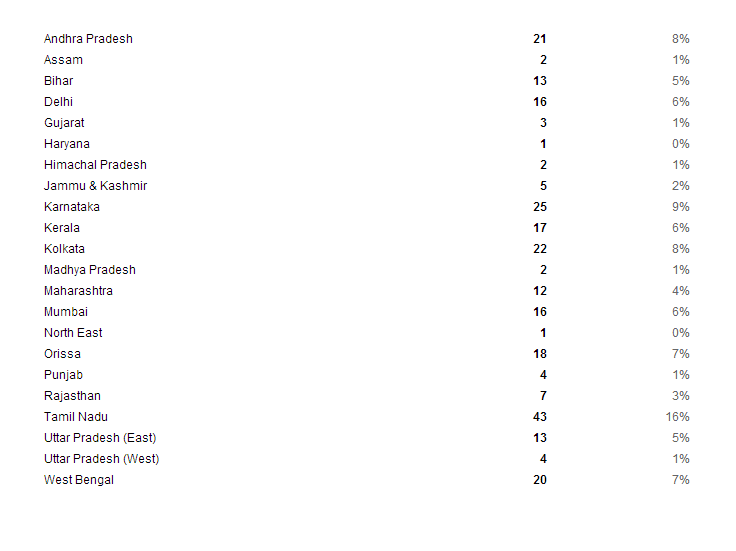 You can clearly see that Tamil Nadu stands first among users who gave feedback from all the circles followed by Karnataka. This can also be used as one of the parameters to show the performance of Aircel and customer satisfaction in those circles.
Q3.What is your Base Tariff Plan?
From the feedback it can be clearly observed that most of the users are enjoying the benefit of 1p/sec tariff from Aircel.
Q4.What is your Age on Network?
The average age on Network by all the users is approximately 3 years while the highest and lowest age on network stands 12 Years and 6 months.
Q5.What is the main reason for you to opt for Aircel Services ?
Users feedback reports that Unbeatable Data plans, Cheapest Tariff and Tariff addons, A2A offers are the main reasons for them to opt for Aircel Services.
Q6.Is your Choice and Reason for selection of this Operator Fulfilled?
59% of users report that their choice of selection of Aircel is fulfilled followed by 24% partially and 17% came out with a No. A good performance by Aircel but an increase in percentage can be obtained with network expansion measures.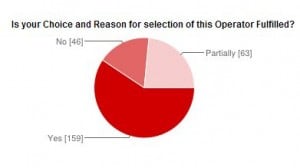 Q7.Average Monthly expenditure on your Number?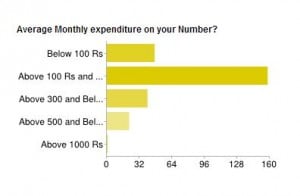 59% of users report that their average monthly expenditure is above Rs100 and below Rs300, 15% of users report that their average monthly expenditure is above Rs300 and below Rs500 while only 18% and 0% of users report that their average monthly expenditure is below Rs100 and above Rs1000 respectively on their Numbers. This also shows that most of the users on Aircel use data services as a mode of communication.
Q8.What is the most you like in Aircel ?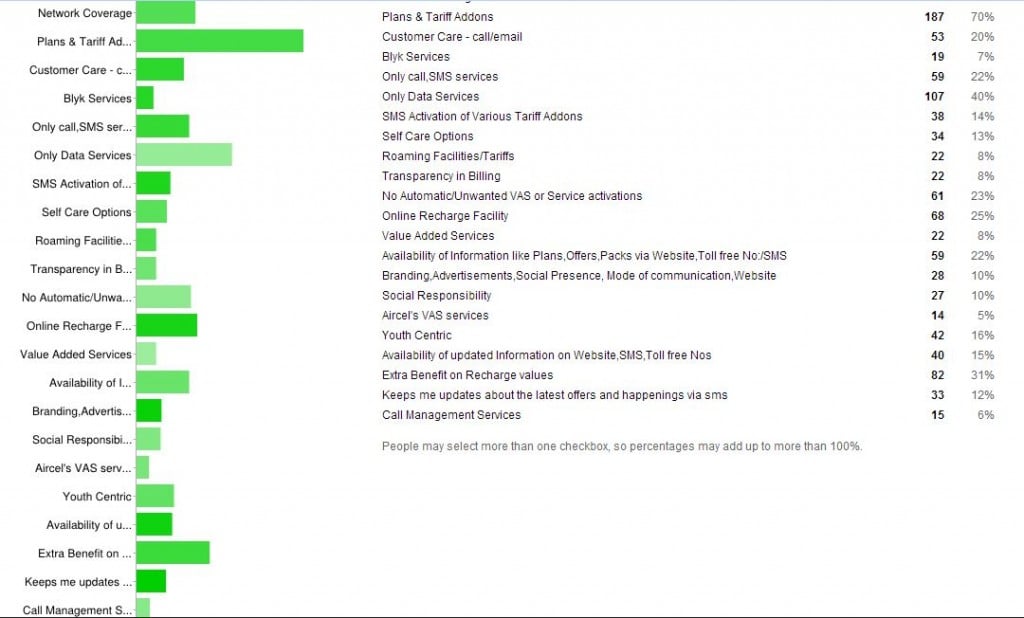 There is almost a distributed share in many aspects leaving some crucial parameters aside. No doubt "Plans and Tariff Addons" are what people like the most and no other parameter is at least close to it with a major percentage of 70 followed by Data services of 40%. Keep it up Aircel.
Q9.What is the most you Dislike in Aircel ?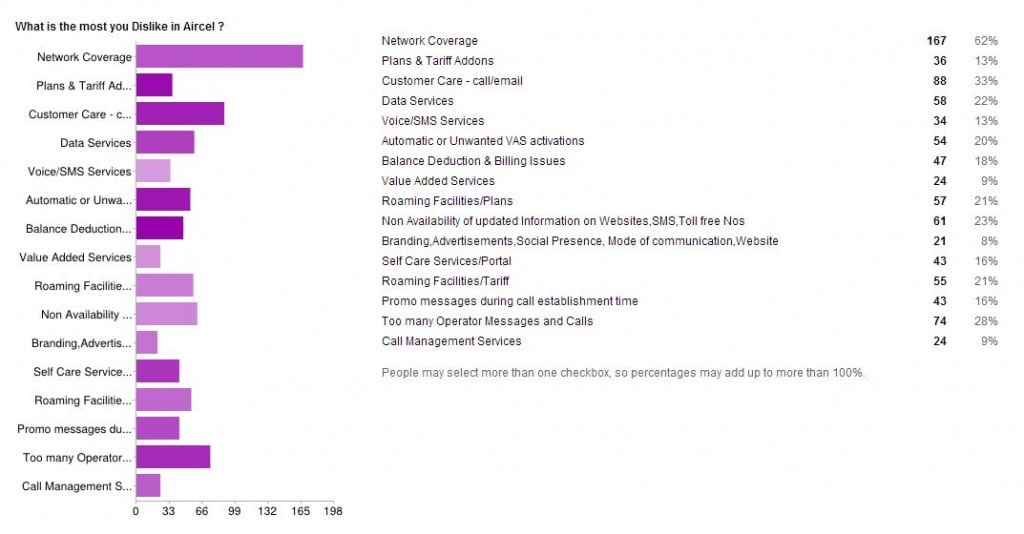 62% of the people Dislike Network coverage of Aircel followed by Customer Care. Even I personally also feel that Network Coverage is what Aircel should improve a lot, though Aircel managed to cover every possible living location the pain really starts once when we start travelling.
Q10.What is the most you like about Aircel - 3G Services?
Aircel stands as a Data Concentrated user Network and the feedback from users also proved the same.85% of the users likes its Affordable Data plans and 61% of users liked its unlimited speed capped Data plans.
Q11.Any further improvement required on Quality of Services according to you?
Network Coverage
Improve Self Care portal
Provide Self care options via USSD
Are the most suggested and requested improvements from Aircel users who gave their feedback via submission form.
I was shocked to see the only suggestion to improve for Aircel is Network from every user.
Q12.Are you presently facing any Problems With Aircel Services? If so what are they?
Unfortunately the result in this section too is also the same as discussed above.Network Coverage is the main problem faced by users along with requirement of good Data speeds. Yes, we can experience moderately slower data speeds during peak times of the day as most of the Aircel users are Data consumers.
Q13.If you would like to Thank/Regret any Service from Aircel, you can go ahead.
Most of the users thanked Aircel for
Cheap Data Packs
Best Tariffs and Affordable Rate cutters
Talk Time Recharge coupons
I personally also felt that Aircel really managed well in providing the above to it's users.
Q14.Ported from any other Network to Aircel, Which Network and Why?
Majority of the user's feedback shows that Aircel is their parent network while there are major portings from operators like BSNL,Airtel,Idea,Vodafone,Uninor,Tata Docomo too to Aircel based on requirements.
Q15.How far are you satisfied with Aircel Services?

Q16.Are you planning to Port to a different Network?

42% of users say that they are not planning to port to a different network and that they are satisfied with Aircel. While 22% are confused whether to port out of Aircel or not , 37% of users are sure of their porting out of Aircel Mobile Services to Network of their choices and requirements.
Dear Readers after discussing the results how did you feel about the poll and services from Aircel?
Stay tuned for polls on Other Networks.