Reliance Jio Infocomm Limited (RJIL),  today launched high-speed 'Jionet'  Wi-Fi service at 55 locations across the Indore city. The service was inaugurated by Honourable Chief Minister of Madhya Pradesh, Shri Shivraj Singh Chouhan, in Brilliant Convention Centre, near Vijay Nagar. Visitors will be able to access the Internet through 'Jionet' Wi-Fi network. Currently, Jio is providing this service as complimentarily so that customers can experience high-speed internet for free.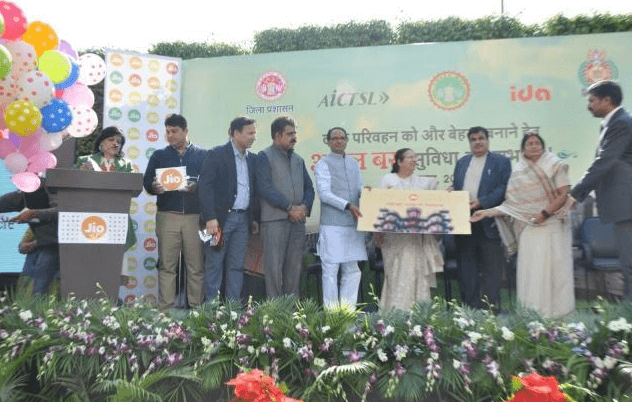 Reliance 'Jionet' Locations In Indore
Jio has covered major public locations across the city to provide high-speed internet through Wi-Fi. Some of the locations in the city are:
BRTS Bus Stops – 22 locations along 15 KMs of Bus Route
Popular Religious Places – Khajrana Temple, Ranjeet Hanuman, Bada Ganpati, and Annapurna Temple
Popular Commercial Places – Jail road, Kothari Market, and Rajwada
Popular Hangout Areas– 56 Dukaan
Important Government Public Offices – RTO, Indore Development Authority, Municipal Corporation Office, and Collectrate
Recreational Places – Zoo & Regional Park
Elite Clubs – Gymkhana, Tennis Club, Abhay Prashal, and Residency Club
Commenting on the event, a Reliance Jio spokesperson said, "We are proud to be associated with government's initiative of making Indore a Smart City. Now citizens of Indore city and visitors would be able to experience digital ecosystem that Jio is building. Jio aims to bridge digital divide by enriching life of every common man through its products and services."
Apart from this, the Jio Chat instant messaging app that was launched recently, has introduced localised stickers created by renowned cartoonist & illustrator Neelabh Banerjee. These stickers claim to bring out the cultural ethos of Indore and are symbolic to the city of Holkars. True to its spirit and creativity, it ushers Indore into the modern digital era.