Google's Android Operating System is known for its widely customisable features and the immense range of applications which the Google Play Store offers. Along with that, the Android ecosystem supports devices from every price range, which makes it the most loved mobile operating system of all time. However, despite all the positive reviews Android still lags behind when it comes to messaging services and gets beaten by Apple whose iMessage service has been the favourite of its users since a very long time. Users like it so much that many have even refused to transition to Android because of the utility of the iMessage application. But now things might be about to change since Google has decided to bring an application called 'Google Chat' which will encompass functionalities of iMessage and will allow Android users to use the messaging service effortlessly.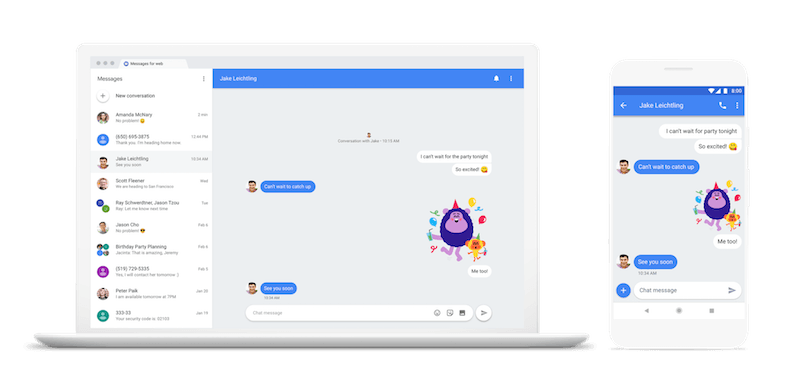 The new Chat app, as reported by The Verge will rely heavily on the Rich Communication Services (RCS) for SMS/MMS and work and will also work in sync with multiple carriers and OEMs around the world which will result in an overall better and unified texting experience on the platform. Customers can send messages, full resolution photos and videos over their data connection via RCS. Still, there exists a fundamental difference between the working of iMessage and Chat where the Apple based service uses its own servers to route messages the Chat application is going to do that using the telecom carriers.
Google has convinced 55 carriers from around the world to jump on the bandwagon of this new messaging service. As per GSMA's new listing Reliance Jio and Bharti Airtel have also agreed to this new service agreement, but Reliance Jio is already making use of the RCS to relay its own messaging service. Also, Vodafone has enrolled itself, but India has not been listed as one of its rollout regions.
The new messaging service by Google which we are here referring to as 'Chat' will not be rolled out to phones as a standalone application but instead, it will work in sync with the already existing messaging application, for example, Samsung's own messaging app will support the Chat software. However, this will further require the carriers green flag on the issue to start the messaging service from bottom up. Users will be able to receive messages over mobile data in their pre-installed messaging app, and those users who have phones without the Chat support will continue using the service in its usual way over SMS/MMS.
This new feature by Google is expected to pull a certain number of users away from widely used messaging services like WhatsApp messenger and Facebook messenger however there exists a major flaw in the framework. Unlike WhatsApp where the messages of uses are end to end encrypted, the messages over Chat will not be under any kind of security thus it will make user data prone to malicious interception and sometimes also legal intervention.
Right now the existing Android Messaging application on the Google Play Store supports the Chat functionality, meaning that any users who are on the Jio network can use the said application to send and receive messages to another user who are on Jio as well, using the RCS protocol. Further, The Verge report has also outlined that Android has struggled to create a messaging platform which could compete with the likes of WhatsApp and Facebook messenger, however with the advent of this new technology things might really take a turn for Android Messaging.
Although the end to end encryption poses a certain barrier for the incoming users in transitioning to Android-based messaging services, a lot of people will still prefer to use the OS based messenger from now on like Apple users have been doing since years.