The mobile subscriber base in India has crossed a billion mark for the first time, and reached 1003.49 million subscribers. India is second only to China to cross this major milestone in world of mobile phones. However, number of active wireless subscribers was marked to be 902.26 million at end of October 2015.
In the month of October, a total of 6.83 million mobile subscribers were added by the telcos. Out of the 1003.19 million mobile subscribers, 578.11 million were urban subscribers, while 425.38 million were rural subscribers. Wireline subscriber base continued to decline, and dropped to 25.85 million. During the month of October, 2015, 5.11 million subscribers submitted their requests for Mobile Number Portability (MNP).
Operator-wise subscriber base (in millions)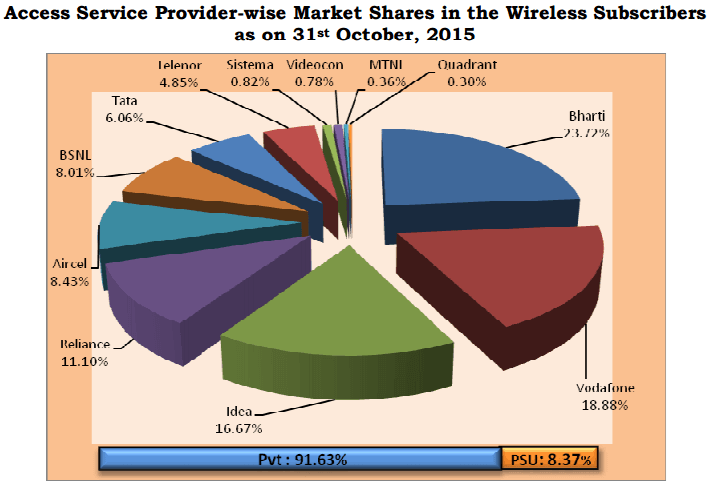 Airtel – 237.97
Vodafone – 189.47
Idea – 167.28
Reliance Communications – 111.41
Aircel – 84.60
BSNL – 80.42
TATA – 60.84
Telenor – 48.71
MTS – 8.26
Videocon – 7.84
MTNL – 3.60
During the month of October 2015, Bharti Airtel added the maximum number of new subscribers (2.76 million) followed by Vodafone (adding 1.3 million), and Reliance Communication (adding 1 million). Both, BSNL and Idea, added 0.72 million, while Telenor added 0.93 million subscribers in the October of 2015. On the contrary, Tata lost over 1.17 million subscribers during the month.
The overall tele-density in India increased from 80.98 at the end of Sep-15 to 81.44 at the end of Oct-15. While urban tele-density marginally declined from 152.76 at the end of September 2015 to 152.58 by the end of October 2015. The rural tele-density increased from 48.66 at the end of September 2015 to 49.37 by the end of October 2015.
The broadband subscriber base increased from 120.88 million at the end of September 2015 to 125.22 million at the end of October 2015. Out of these 125.22 million broadband subscribers, 108.48 million were wireless broadband users. Bharti Airtel (29.03 million), Vodafone (24.48 million), Idea Cellular(20.28 million), BSNL (19.43 million) and Reliance communications Group (11.47 million) were the top five broadband service providers in the country.