Vodafone recently unveiled an innovative scheme called 'Vodafone Campus Survival Kit' for the students in Delhi NCR. And today, the company announced that the same scheme is rolled out in UP West & Uttarakhand regions. Vodafone says that this plan will enable students to stay connected at all times and attractive value for money deals from popular brands so that college becomes even more enjoyable.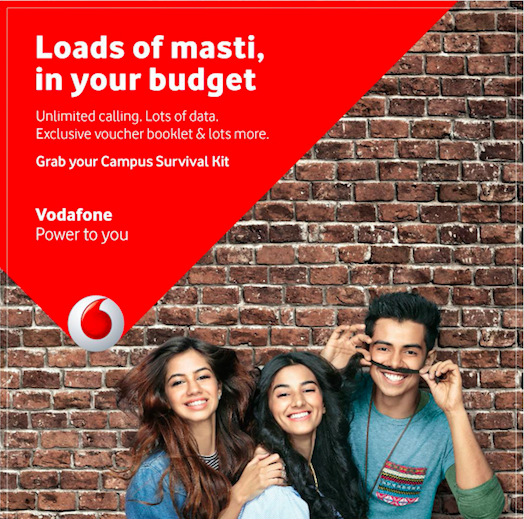 The Vodafone Campus Survival Kit will help students stay in touch and save their limited pocket money, the kit contains a Vodafone 4G SIM card, attractive goodies like a compact mobile phone holder and a booklet with discount vouchers from popular brands like Lakme salon, Pizza hut, etc. This is one of its kind initiatives by Vodafone to empower college going students with the best telecom and non-telecom offers.
Announcing the launch of Vodafone Campus Survival Kit, Mr Dilip Kumar Ganta, Business Head, Vodafone UP West & Uttarakhand, said, "The beginning of college life opens a world of opportunities and experiences for youngsters. While they want to use their new found freedom to explore these opportunities, their limited allowance is a challenge. To overcome this, they look for attractive deals to live their college life to the fullest. Vodafone's Campus Survival Kit is aimed at empowering students with a bundle of offers from popular brands to help them sail through college life happily."
As a part of the campaign, Vodafone has released a video on how students across colleges make the most out of campus life in their limited pocket money (link to the video). Vodafone is now inviting interesting hacks from the users on how to make campus life more fun without burning a hole in your pocket. The hacks can be shared as comments to this video. The most interesting ones will be featured in another video on hacks to rock campus life without running out of your pocket money.
In Delhi NCR though, the company has announced a new tariff plan of Rs. 445, which offers 1GB data per day and unlimited calls for 84 days. After the first recharge, the plan will cost Rs. 352 for subsequent recharge. However, Vodafone did not announce any sort of tariff plans for the students in UP West & Uttarakhand regions. Vodafone will announce the scheme in other circles as well very soon.