Government-owned telecom operator, MTNL (Mahanagar Telephone Nigam Ltd), who operates in Mumbai and Delhi has been incurring losses for ages now. Although the Bharat Sanchar Nigam Ltd (BSNL) has started making profits, MTNL hasn't shown any signs of improvement in the revenues department whatsoever.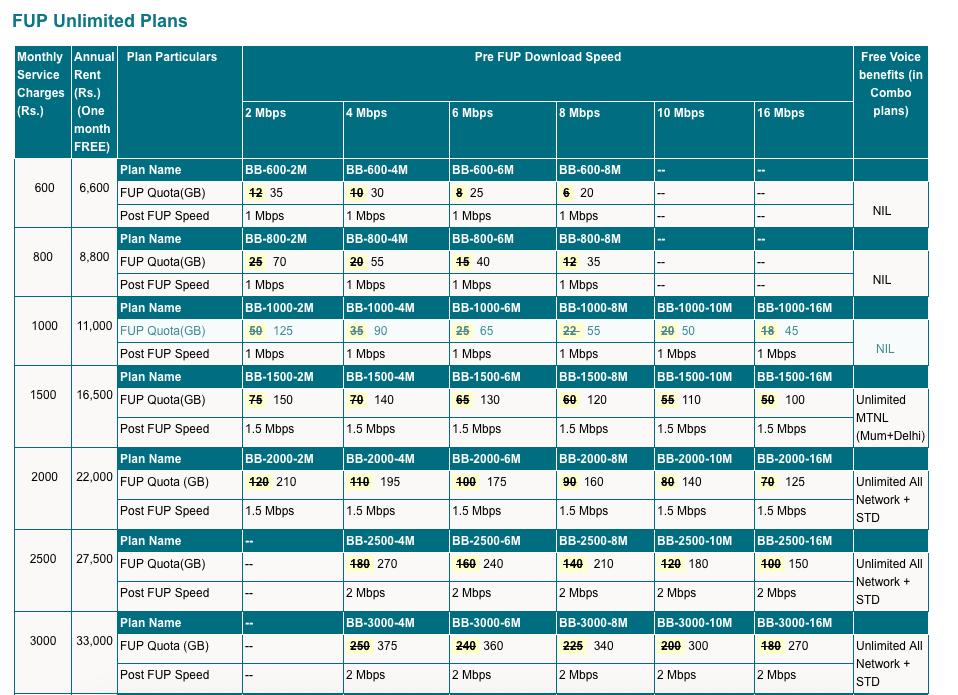 However, that did not stop from the government-owned entity to introduce new services. MTNL, same as BSNL has operations in the broadband department as well and the company silently revised its broadband plans for the residents of Mumbai.
That said, all the MTNL Broadband Plans are now offering up to three times more data and unlimited calling. The cheapest plan of Rs. 600 offering 1 Mbps download speeds now come with a monthly FUP of 35GB, which is almost three times more than the previous 12GB FUP per month.
All the MTNL High Speed Plans FUP has been revised, and they now offer more data than the previous ones. The High Speed 950 plan offering 50 Mbps speeds now comes with a monthly FUP of 35GB from the previous 15GB. And the same applies to other High Speed plans as well.
The most top of all; the High Speed Rs. 7999 FTTH plan offering speeds of up to 50 Mbps now offers an insane FUP of 900GB per month, which was increased from the 600GB standard offering. As you might be aware of the fact, MTNL also offers 'Broadband Data Top Ups' and these data top ups also modified to provide better data.
The Rs. 300 data top up now adds 12GB additional data to your billing cycle from the previous 6GB, whereas the maximum data top-up of Rs. 1899 now offers 200GB of data from the previous 100GB, and that's a bonus. That said, these top-ups can only be activated after the expiry of your monthly FUP.
Despite the fact that MTNL offers better broadband services in Mumbai and Delhi, everything is not going according to the plan as the company is apparently looking for a merger with BSNL and seeking to improve its services to compete with private telcos. Nevertheless, the merger talks have been in discussion for more than ten years now.