Reliance Jio, the new telecom operator that created disruption in the Indian telecom market with its complete free 4G services, will be entering into other digital services such as providing DTH TV service, broadband services, etc. very soon.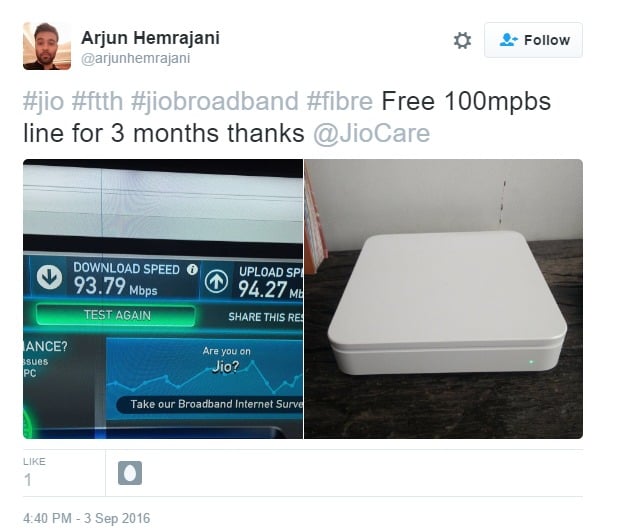 Having said that, the upcoming service, which was earlier rumored to launch in early 2017 is the Jio GigaFiber broadband service. Just after the initial launch of the Jio 4G services to the general public on September 1, a customer from Chennai on Twitter said that Jio had offered him free broadband services for three months. He also posted a screenshot of the speeds provided by the network, and they touched an insane 93.79Mbps.
However, there is no information on when the services will roll out officially to every corner of the country, but Jio has already started offering pilot services of Jio GigaFiber in some areas of Chennai, Mumbai, and Pune. But, will it be able to deliver the hype created around it? That's the major question here. According to us, Jio's GigaFiber broadband services will provide insane download/upload speeds as it will be built on the Fiber to The Home (FTTH), the next generation technology used in the broadband segment.
In contrast to this, Airtel recently announced the V-Fiber technology, where the telecom operator is offering speeds up to 100Mbps, and it is based on European Standard Vectorization technology. That said, Airtel is quickly expanding their V-Fiber presence all over the country. There were some rumors saying that Jio is making in roads and deploying the FTTH cables across the country.
Also read: Reliance Jio to launch Rs 999 VoLTE feature phone with free voice calls to acquire millions of customers in India: Report
Another significant aspect which Jio needs to take care of is the pricing of this upcoming service. Earlier, there was a rumor saying that these Jio GigaFiber broadband plans will start from Rs. 500 offering speeds up to 100Mbps. But, we believe that the plans won't be that cheap as expected. But, they will be market disruptive as Jio did with the 4G tariff plans in the mobile network space.
Also Read: Here's How Reliance Jio is Going to Change the Tv Viewing Experience for Users in India
As of now, it is known that Jio is planning to launch the Jio GigaFiber services in 100 cities across the country, but again, there is no specific date mentioned. However, it is a good thing to see Jio started testing the service in some areas of the country.